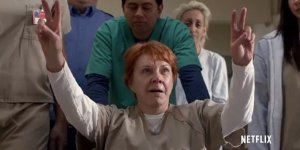 This episode was not my favorite. Although I usually enjoy seeing my expectations for characters' backstories upended, Sister Ingalls was not prominent enough in my mind to merit her own flashback episode. And when we find out that, although she was legitimately protesting nuclear weapons, she was also a media gadfly who was doing it to be on the front page of The New York Times it really rang hollow for me. She has seemed like a decent person and rather quiet for the run of the show; I don't really buy this 180 degree turn of her personality.
| | |
| --- | --- |
| | |
The reason why she's at the forefront of this episode is because she decides to join Soso's hunger strike after a couple of other inmates, including Yoga Jones and the laundry girls, get on board. Though the laundry girls are quickly seduced by pizza and annoyed by all the logistics of mounting a legitimate protest, Sister Ingalls is energized, and directs Soso to reach out to different Catholic activist groups, before learning that her efforts to get the story in the media are being foiled by a Superstorm brewing off the coast. She is still on the hunger strike, though, refusing to be fed as long as she's conscious, and she ends up in the infirmary on an IV drip, a bit delirious and returning to her activist glory days in her mind.
Refreshingly, Boo ratting out Red's Tunnel of Contraband to Vee is immediately revealed to Red and Nichols by Black Cindy. Red finds Boo and angrily gives throws a bag of Jolly Ranchers at her, vowing that this is the last favor she will ever do for her, and that she's out of the family for good. Boo counters by saying that she's totally fine being a family of one, but immediately runs to Vee hoping to be absorbed into her girl gang. Vee tells her that she hates snitches and can take a hike, basically, and Boo looks a bit afraid to be on her own. She should be — apparently part of Red's quest for revenge involves one of the Golden Girls, a shank, and not a lot of preparation, as the wrong girl (who bears a passing resemblance to Vee) gets stabbed, landing the would-be assassin in the SHU.
Fig gets wind of the Big House Bugle (LOL) and immediately moves to shut it down. She also runs into the not-that-smooth reporter on his way out of the prison after visiting Piper, and immediately puts in an order to transfer Piper to a prison in Virginia. Clearly drawing on her experience in Chicago, Piper is freaked out at the prospect of having to get used to a brand new prison environment even further from home. Maybe the reporter could have protected his source a bit better, no?
Healy is continuing his counseling group, safe space, with Pennsatucky as the muscle forcing people to sign up. I love this duo so much — they are both trying to help people, in their way, but their horrible personalities keep interfering with their efforts. Suzanne volunteers to join to "keep an eye" on Poussey, who is also joining, and it's kind of unimaginably horrible to see this really sympathetic character who has been so violent to this other really sympathetic character sitting there as Healy asks her what happened and staring at her in an effort to intimidate her. Also miserable is Daya, who is becoming increasingly fed up with the power imbalance between her and Bennett, as well as the bleakness of their future. She has a point: even if they get away with the ruse, it's not like they can get married and be a family once she's out of prison. Also, now that Mendez believes he's the father of her baby, they have a vested interest in letting him believe it.
Finally, I have spent most of this season being furious with Vee, but in this episode I got to direct my anger at Larry and Polly, who are history's greatest monsters. Polly decides that she is going to leave Pete, because hanging out with Larry for a couple of weeks has definitely prepared her for being in a relationship with him, and Larry helps her break the news, because changing a couple of diapers has definitely made him qualified to help raise Polly and Pete's child. It seems so clear that these two are being set up for total disaster, and I really, really hope we get to see the aftermath.