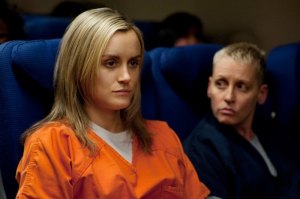 How good does it feel to have Orange Is The New Black back in our collective eyeballs? So good that the advent of season two hasn't seen nearly as much performative posturing from TV-philes about staying up all night to gobble up all of the new episodes in on sitting, compared to, say, the release of House of Cards a couple of months ago. OITNB lends itself to a slow rollout, after all — with season two sticking to the format of allowing one character's backstory to be explored in depth through flashbacks, it feels good to take the series one episode at a time.
Of course, if you pressed "play" on episode two immediately after finishing the premiere, I can't blame you. The first episode of the second season uprooted Piper and the audience from the comparatively comfortable environment of Litchfield into a newer, scarier prison in Chicago. Piper, we learn, has spent the past couple of weeks making egg yolk cave paintings in the SHU after giving Pennsatucky an epic face beating in the season one finale. Though we learn that Pennsatucky is fine, and even got a new set of teeth, Piper is clearly haunted by the part of herself that made such a vicious attack possible.
| | |
| --- | --- |
| | |
She benefits from her reputation as a bruiser in this newer, more violent, co-ed (???) prison. The presence of male inmates was rather confusing to me, since holy moses what a lawsuit factory that would be, until it became clear that Piper (presumably along with the other inmates at the prison) is there to testify in court, in her case against the drug dealer who is responsible for her sentence. In the meantime Piper has to contend with a new crop of roommates, one of whom really needs to know what time of day she was born so she can chart it, going to frightening, face-licking lengths to gather that data, and another of whom she kills on sight — he's Yoda the cockroach, and he was trained to run cigarettes between cells. R.I.P.
Though she is both more downtrodden and more steely than when she first entered prison, Piper clearly still expects people to play by The Rules and is disappointed every time they don't. When she is made to board a plane flying her and other inmates to Chicago, an absurd sort of Catch-22 concept made even more disturbing by being both very real and very commonplace (the sky is full of criminals, guys!), she keeps "demanding" to be told where she's going only to have just about every prison worker she encounters roll their eyes at her. Piper, it'll save you time to start assuming that people aren't going to be helpful from the beginning, though I know a lifetime of being a nice white lady can take a while to get over.
The premiere was somewhat marred by several on-the-nose flashbacks about Piper being a classic "Good Girl," always calculating the risk versus reward of everything she did, and learning to keep her feelings inside based on her parents' example. While not especially irritating, the flashbacks didn't tell me anything about Piper that I haven't already learned from watching her in season one. Instead, I would rather have learned more about the drug dealer she and Alex (who is also at the Chicago prison) testify against, who scares Alex so much that she buries the hatchet with Piper (they were majorly on the outs at the end of season one) and warns her not to flip on him lest he retaliate.
Of course Piper, on a real self-destructive tear, takes Alex's advice to lie over the counsel of her attorney, Larry's dad, who decides to grant her one last favor but bails after she perjures herself. To make matters worse, out comes Alex, apologetically saying she had to do the right thing and tell the truth…and regaining her freedom as a result. Initially when I watched the episode I thought Alex had told Piper to lie on the stand intending to tell the truth the whole time, making it clear Piper is lying and thus possibly adding to her sentence, as retaliation for her actions in season one. But it's also possible that her change of heart was real, and she was able to realize what Piper is incapable of figuring out right now — that telling the truth can be liberating. It was a great start to what is sure to be a compelling season. I'm still holding back from gulping down the whole season in one go, but barely.