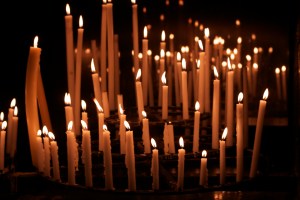 New Yorkers are just about ready to move upstate.
Violence and heat go hand in hand in New York City, and sure enough the transition to June ushered in at least 13 shootings and four stabbings this weekend, leaving one 6-year-old dead.
Most of the violence took place in Brooklyn, with the exception of one shooting in Harlem and one in the Bronx, according to The Post.
In East New York, Brooklyn, 6-year-old Prince Joshua Avitto was knifed to death in a moving elevator while his friend, 7-year-old Mikayla Capers, was left brutally injured. After the villain fled, Mikayla barely stumbled out of the elevator on floor one. Joshua's body was found when the doors opened at the fourth level, The Daily News reported.
Police suspect that the child-killer also stabbed Long Island University freshman Tanaya Grant to death on Friday.
The most vicious armed attack was inflicted on a 23-year-old man, who was gunned down by five bullets in East New York.
Celebrations and memorials brought no peace, either. Two teens aged 16 and 18 were shot in a memorial walk in East New York for their late friend Tyquan "Nookie" Jamison, murdered in the same neighborhood four years back. A 19-year-old was also stabbed during the commemoration.
Resident Sammy Ali, local deli employee, was less than dumbfounded by the violence. "This is normal for this neighborhood, happens ever summer," he told The Post. Mr. Ali said he went outside after hearing gunshots only to find the mayhem of a barricaded street and "cops running everywhere."
Resident Natasha Lewis argued that although she was shocked, "you can't just back down and say we're not going to have these marches."
Four more took ammunition at an Old Timers' Day barbecue reunion at St. John's Park in Crown Heights, including three men in their thirties and a 54-year-old woman.
Another stray bullet crippled an 18-year-old man East New York, and cops later detained his 16-year-old shooter still holding the smoking gun. A different 16-year-old gunman shot a 50 year old homeless woman in Flatbush on Friday, according to Gothamist.
Wish for anything but an endless summer in the concrete jungle.