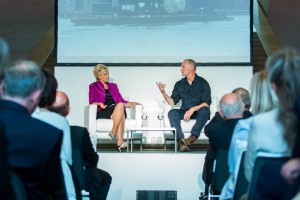 When word began to get out that Skarstedt had sold Andy Warhol's 1986 Self-Portrait (Fright Wig) to an American collector for somewhere around $35 million—far and away the biggest sale at this year's Art Basel—Tina Brown had just taken the stage with Matthew Barney at the Kunstmuseum Basel to discuss the artist's six-hour film River of Fundament.
"I've been to Norman Mailer's apartment many times, and your set is a perfect facsimile, I can attest," Ms. Brown said to the crowd, which included hosts Dasha Zhukova, Eli Broad and Daphne Guinness.
"Yes, it is," Mr. Barney said.
"And you had John Buffalo Mailer in the role as his father," Ms. Brown said. "Do you think that was difficult for him?"
"I think it was more difficult for him when he disemboweled a cow, pulled out a baby stillborn cow, and then burrowed himself inside," Mr. Barney said. "We used a real cow."
"You seem like a very nice human being, but some of your images are very disturbing," Ms. Brown said.
And so on. Dinner followed in the courtyard, where the 400-year-old walls are accentuated by long Dan Flavins on all four sides. Across the room, we spotted Steven A. Cohen, whose firm, SAC (now called Point72 Asset Management), pleaded guilty last year to insider trading, resulting in $1.2 billion in penalties. He was seated next to Jenny Saville, who paints fleshy nudes.
"I don't think I want to talk right now," Mr. Cohen told us when we inquired whether he bought the Warhol.
A representative at Skarstedt wouldn't reveal anything to us beyond the buyer's home country and the asking price.
What does the deal say about the state of the market?
Pace Gallery's president, Marc Glimcher, wasn't even aware of the sale when we talked to him Wednesday, but he said it was more of a blip in the fair than an indication of anything grand.
"If you sell something here at Basel for $32 million, it's gonna be a no-brainer," he said. "It's going to be something that can sell anywhere. It's not what the fair is about."
And on a similar note, Art Basel Director Marc Speigler said the sale was at "one end of the spectrum."
But still, we wanted to know: which American bought the thing? Could it have been Mr. Cohen? We had seen him in the midst of a potential celebration at the Three Kings late Tuesday night, and though we saw him speaking to a few young-looking dealers, our passage was blocked. A rare instance of temper in this fondue-loving isolationist country had flared up by the bar.
"Please don't touch me, sir," said the maitre'd' to an older man, tall and thin with thick-rimmed glasses, whom unfortunately no one we knew was able to identify.
The riled-up guy then began to gesticulate and yell loudly in French, until someone gave him a glass of wine.
"That will be 20 francs," the maitre'd' responded. Not happening.
"Don't you know who I am?" the man yelled back, refusing to pay. "Don't you know who I fucking am?"
Eventually he stormed off, leaving everyone momentarily shocked–Art Basel and its environs are an exceedingly polite place, especially this year, apparently.
"That's what everyone's saying," Mr. Glimcher told us when we stopped by his booth Wednesday. "Everyone's calm and not hysterical. Why? Because there are no Americans here!"