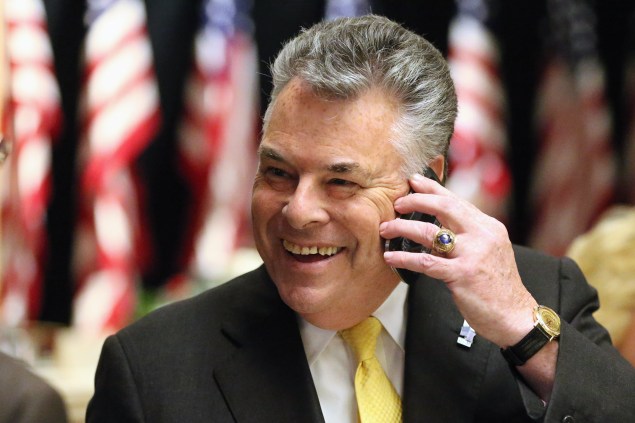 Congressman Peter King doesn't think an American solider released after five years of captivity in Afghanistan is especially heroic.
Mr. King, a Long Island Republican and former chair of the House Committee on Homeland Security, said today that recently freed Army Sgt. Bowe Bergdahl should not be treated as a hero because of questions raised about how he went missing in the first place.
"I don't believe he should be treated as a hero. I think that because of circumstances surrounding how he was captured I think there should be a full investigation," Mr. King said on the Geraldo Rivera Show. "I don't want to sound harsh in saying that but if you believe the accounts many American lives were put at risk trying to find him, trying to locate him after he apparently left the base in the middle of the night."
"It doesn't seem heroic," he added.
Mr. Bergdahl returned to the United States with much fanfare on Saturday after the Obama administration negotiated his release in exchange for five Guantanamo Bay detainees. Sine his return, however, some fellow soldiers have blasted Mr. Bergdahl for allegedly deserting his post, according to reports.
"I was pissed off then, and I am even more so now with everything going on," former Sgt. Matt Vierkant, a member of Bergdahl's platoon when he went missing in 2009, told CNN. "Bowe Bergdahl deserted during a time of war, and his fellow Americans lost their lives searching for him."
Mr. King appeared to agree with that line of thinking today.
"I'm not questioning a guy who has been in combat but I think we have to keep in mind the tens of thousands, the hundreds of thousands of G.I.'s who have gone to Afghanistan and Iraq and he's as far as I know the only one who, you know, left the base and was captured that way," Mr. King said.
Paula Duran contributed reporting.