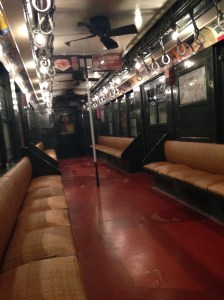 If you've ever been stuck underground at rush hour pressed up against at least three other bodies with sweat dripping down their faces and still considered the subway car "not that crowded," then yes, you are a New Yorker. And although this title comes with outrageous rents, smelly summer streets, and most of all, subway angst, "Platform," at the New York Transit Museum, reminded us Wednesday night why it's all worth it.
The event was the second in a series that brings together artists, dancers, choreographers, filmmakers and other creative minds to invent pieces inspired by the unique yet mundane experience of taking public transportation. In a system that manages to provoke the best of us to shove past tourists, tell our neighbors to be quiet, or curse in front of children, these participants were able to find beauty in the daily commute.
"I already view [the noise of the subway] in a sense as art," said Jenn Grossman, a sound artist who created the installation, "Entrained: Sounding the Daily Commute" from sound recordings she has taken on the subway. "I guess everyone's interpretation is different. My goal is to just sort of listen to things and view these normal things as somewhat aesthetic."
"Platform" itself was able to take the commonplace experience of entering the subway and turn it into something aesthetic and unusual as well. Walking down the steps into the museum was like entering a time machine, leaving the hip Brooklyn streets for wooden turnstiles and trains still plastered with ads for the upcoming World's Fair.
Kelly Spivey might argue that the plunge into the station almost always results in a surprising encounter anyway. Ms. Spivey is a filmmaker who created "Fish Under Delancey," featuring the mosaic murals in the subway. She compared the experience of descending the steps to "Alice in Wonderland."
"It's like going into this rabbit hole," Ms. Spivey told the Observer. "It's like this strange [thing], going into this hole and you don't know what to expect."
"It's other worldly. There's no reference point, there's no horizon, there's nothing natural," she added.
"Platform" proved that this alien underground is still rooted in humanity.
"One thing that unifies the city of New York is not [just] any cultural diversity but that we are all using mass transit together," said Ryan Seslow, creator of "Animating Transit," a collection of GIFs made with images from the Transit Museum's public archive. "You're sharing that place with a lot of people simultaneously… You're going to connect. You're going to feel something."
"It's a uniting factor," Producer for Public Programs at the Transit Museum Julia Malta-Weingard agreed.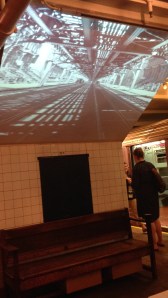 Pia Vinson, who choreographed "Contrast," based on her own experience of moving from France at the age of 19, said that the community she finds on the New York subway is unlike any other she's encountered.
"It's only in New York that I was able to have a really random conversation with a person in the subway with no bad intentions," Ms. Vinson reflected. "That's something magic and really inspiring because it doesn't last. It's like you create a friendship in two seconds and end it in two seconds." This connection might be why her dancers removed the colorful masks from their faces by the end of their performance.
Ms. Grossman noted that the fleeting connection of subway riders relates to her art.
"[Riding the subway] is kind of a communal experience and art kind of creates a sense of community," Ms. Grossman said. "Even when there is something going wrong on the subway, people kind of bond over that."
Ms. Spivey's film was inspired by the group mentality and anxiety that occurs on subway cars when a frightening event occurs.
"[Freud] was disillusioned after the Holocaust about the psychology of crowds," Ms. Spivey said. "I'm really intrigued about the potential power of crowds for good or bad. New York City is a place where you can experience that power."
Of course, no one steps onto a train as an individual and leaves as a collective being. Kai Kleinbard, who performed his own interpretive dance on the lower level platform called "Creature in the City," said this tension between the individual and group mentality is inspiring.
"The dynamic of people interacting but still trying to stay themselves is very interesting to me," Mr. Kleinbard mused. He pushed this interpersonal boundary during his performance by bringing his bright orange shirt and beanie up close and personal with many audience members, wordlessly and fluidly moving his body. He said he was comfortable doing this in a space where people signed up to see his performance, not getting in anyone's way like the guys who do acrobatics on the handlebars.
"What's nice about this is it feels like the subway but in a more controlled environment," Ms. Malta-Weingard said. "No one is going to come after you kicking you off the train."
But for those who prefer to experience the city above ground, Tennesse Watson, Yeshe Parks and Alex Mallis brought their own spin on the idea of public transportation. Ms. Watson remembered seeing the call for proposals for "Platform" and immediately thinking, "Oh, biking."
"Biking is not necessarily public in the same way [as subways and buses], but it certainly feels collective for me," Ms. Watson explained. "It's not like I go underground for a period of time and don't see it all. I feel very connected to the project."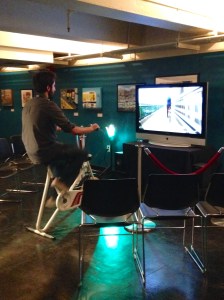 Their installation, "Park to Park," was a stationary bike hooked up to a TV screen playing a video of a biker riding from Central Park to Prospect Park on a GoPro camera. The video quickens and slows in sync with the rider's pedaling speed. Ms. Watson argued biking provides her with knowledge of New York others might take for granted.
"There's another layer of really knowing the island," Ms. Watson emphasized. "I know what the contours of the land are like. I feel a little less trapped… I have that connection to the ground beneath me."
"Platform" showed us that the ground beneath her certainly does cover the mecca of New York life.
"Sometimes I think of the city as like this microcosm; that the subways are like the arteries filled with blood cells that give the city life," Ms. Spivey said. "We are the blood cells being pumped."