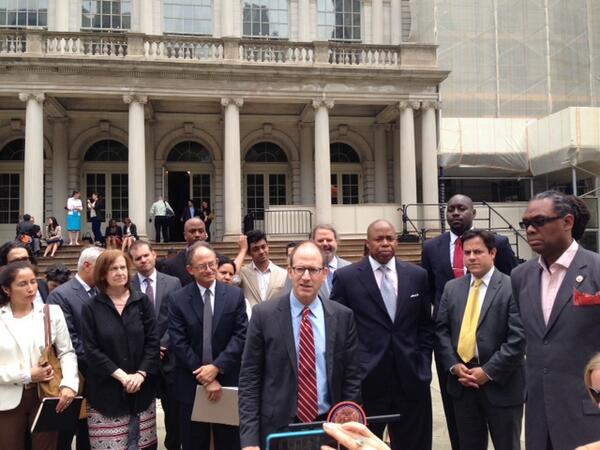 Elected officials, academics and community advocates gathered at City Hall today to call for the preservation and promotion of New York's manufacturing spaces in the face of Mayor Bill de Blasio's ambitious plan to build and maintain 200,000 units of affordable housing in the next 10 years.
The Association for Neighborhood Housing and Development, Brooklyn's Pratt Center and several politicians called for Mr. de Blasio to commit to creating 50,000 manufacturing jobs in the next decade–mainly by preventing the conversion of industrial areas into residential and retail spaces, and by offering a slew of new business services through his office.
"New York City needs to ensure that we are sensibly planning to protect our manufacturing zones, and keeping them free from the high pressure of development," said Manhattan Councilman Dan Garodnick, objecting to rezoning of industrial areas for hotels and condominiums. "We need diversity in our zoning code, and that means keeping manufacturing in the mix."
Brooklyn Borough President Eric Adams said that the protection of the city's industrial business zones–special parcels that can only harbor manufacturing and provide special tax abatements for job creators–are a way of preventing further erosion of the city's manufacturing space.
"Our city needs a diversified economy to ensure its long-term growth and prosperity for all, and our industrial business zones need to be strengthened, not weakened, in the pursuit of that shared goal," Mr. Adams said.
The Brooklyn Democrat's comments come just month and a half after he declared his support for Mr. de Blasio's plan to rezone large sections of the city to allow for more residential growth.
"Build baby, build. Build tall, build high," Mr. Adams said at the press conference with the mayor in May.
The Pratt Center and ANHD called for the mayor to create a new Office of Industrial and Manufacturing Businesses to coordinate with factories and promote policies and budget expenditures favorable to assembly line-type jobs.
"The industrial and manufacturing sector has unique needs and requires a powerful advocate within City Hall that is focused on the future growth of the industry," the groups said in a statement.
Mr. de Blasio's office did not immediately return a request for comment.