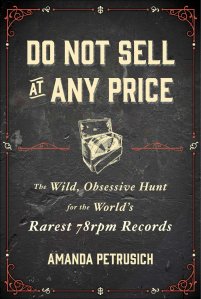 In April, the New York Times Magazine published "The Ballad of Geeshie and Elvie," John Jeremiah Sullivan's essay cataloguing the author's attempt to piece together a biography of an elusive duo in American music history: Lillie Mae "Geeshie" Wiley and L.V. "Elvie" Thomas, two black women from the Jim Crow South who somehow ended up in the Wisconsin studio of Paramount Records, a "race record" label owned by a furniture company that had come into the business of manufacturing phonographs, in the effort of modernizing its customers' living rooms.
Online, the essay was presented in a slick, multimedia package complete with photographs, video interviews, and digital transfers of the songs Geeshie and Elvie cut for Paramount in 1930: six tracks in all, recorded directly to three 78rpm records. The Times Magazine makes these "sides" available for download, free of charge.
"The Ballad of Geeshie and Elvie" is a triumph of the Times' "Innovation" push: a piece of "interactive" journalism, instantly downloadable, universally accessible. That a media environment so intent on the simultaneity of multisensory stimulation and (relatively) immaterial digital publishing should be interested in a small handful of shellac discs––impractical, unavailable and in many cases unlistenable—is ironic, to say the least. And yet, in 2014, the 78rpm record is enjoying a renaissance of sorts: the names of Depression-era bluesmen and women like Geeshie, Elvie, Blind Lemon Jefferson, and Skip James have survived into the twenty-first century thanks to a musical talent that stretches across centuries, nostalgia for an outmoded technology, and––as the critic Amanda Petrusich tells it, in Do Not Sell at Any Price: The Wild, Obsessive Hunt for the World's Rarest 78rpm Records—the inexhaustible efforts of a small army of nerds.
Of course, this is not the first time that such a renaissance has occurred, and in her attempt to catch what collector John Heneghan refers to as the "disease" or "sickness" of 78 collecting, a "neurotic behavior" akin to "when someone dabbles in drugs their whole life and finally decides to shoot heroin," Ms. Petrusich joins the third generation of music obsessives to take the plunge into addiction and say, as Mr. Heneghan does, "I give up." Mr. Sullivan credits Terry Zwigoff's 1994 documentary about his friend and fellow second-generation collector R. Crumb, Crumb, as the sounding call to this new generation, who can trace their lineage back to Jim McKune, a hermetic weirdo who began stockpiling prewar blues 78s in the 1940s, when the medium was just on the verge of obsolescence. Mr. McKune is discussed in both Mr. Sullivan's essay and Ms. Petrusich's book—indeed, there is much overlap in the texts' subject matter and cast of characters (a brief interview with Ms. Petrusich herself is included in the Times Magazine piece). But where the impulse of Mr. Sullivan's essay is historical, attempting to understand the lives of the musicians so that we may better understand their music, Ms. Petrusich is more interested in historiography, attempting to understand why this brief moment in musical history has resulted in a decades-old subculture enrapt not only by the music but by its means of inscription, making an idol out of the 78, a commodity fetish.
Ms. Petrusich cut her chops writing reviews for Pitchfork, and has also written for the Times, The Atlantic, and Spin. Her criticism for Pitchfork is immune to the insults most commonly lobbed at the Internet commentariat in that it is well-versed in music and literary history, self-aware in its subjectivity, and refreshingly innovative in its use of metaphor. As if establishing herself as a significant voice in rock criticism––one of journalism's most male dominated beats––were not enough, Ms. Petrusich is also an accomplished travel writer. Her 2009 book, It Still Moves: Lost Songs, Lost Highways, and the Search for the Next American Music, finds her traveling the very roads trod by Bob Dylan, Woody Guthrie, and others, bringing subjective experience to the kind of critical Americana upon which writers like Greil Marcus have built their careers. In a review of Sufjan Stevens's Illinois (2005) for Pitchfork, Ms. Petrusich writes, "The best travel writers skew their journeys into pointed narratives, writing the story of the landscape by seizing all the weird, awkward bits that make it distinct." As her journey in Do Not Sell at Any Price takes her from New York down to Florida, through the Deep South, the Midwest, and even to Germany (where she investigates "how a specialty German label had become so synonymous with the propagation of rural American music"), Ms. Petrusich takes on the burden of the protagonist, following the divergent paths of 78s, the musicians who recorded them, and the collectors who hunt them down. Mr. Marcus coined the term "Old, Weird America" to describe the world of collector and filmmaker Harry Smith's 1952 Anthology of American Folk Music as well as Mr. Dylan's 1967 Basement Tapes. If nothing else, Ms. Petrusich's travels reveal an America that is even older, and certainly no less weird.
While it is unclear whether Ms. Petrusich succeeds in getting hooked on 78s, she meets a colorful group of record junkies along the way: Joe Bussard, a cranky Fox News faithful whose collection is universally admired and envied; John Tefteller, a professional collector whose dedication to the hunt leads her to conclude of collecting, "This was journalism, sort of—it was certainly more than just pawing through moldy records on the greasy linoleum floor of a Goodwill store"; Jerron Paxton, a young guitar virtuoso who wears a yarmulke, misleadingly performs under the name of "Blind Boy Paxton," and says things like, "Seeing as I am a colored gentleman, I must play some blues." The reader is invited to inhale the "unsettling smells" and "vile steam" of Virginia's Hillsville VFW Flea Market and Gun Show, and to bear with Ms. Petrusich as she learns to scuba dive, in the ill-fated and somewhat self-indulgent hope of digging up Paramount's lost masters from a shallow riverbed in suburban Wisconsin. Her most profound connection, though, is with Chris King, a collector and savant who once "completed three days of a PhD program in philosophy at Franciscan University," but now remasters 78s for reissue on CD. Thanks to Mr. King, Richard Nevins, and others proficient in record engineering and production in addition to collecting, a vast trove of rare 78s can be heard without need of a phonograph. In fact, the reader of Do Not Sell at Any Price can listen along to nearly every song mentioned in the book's discography by means of an Internet connection, YouTube, and Spotify.
Any purist would surely scoff at this suggestion, but if Ms. Petrusich learns anything in her quest to understand the world of 78 collecting, it is that the aficionados are the opposite of evangelists. Due to the rarity of stock and a general antipathy toward society at large (in one chapter, Ms. Petrusich weighs the similarities between collecting and autism), this is a club that is emphatically not accepting new members. Much of the value ascribed to 78s by Ms. Petrusich and her collectors relies on a belief in authenticity—that these discs, recorded without masters, are the only record of the invaluable performances on whose surface they are inscribed. But as Alec Wilkinson recently reported in the New Yorker, physicists at the Lawrence Berkeley Laboratory in California have developed a way to successfully read and reproduce not only 78s, but even more primitive recording technologies from the nineteenth century. Is not the book—Ms. Petrusich's medium of choice—just as irrelevant to the current media landscape as the 78rpm record? "I prepare for death every day," Mr. King, a former undertaker, tells Ms. Petrusich, "I'm obsessed with it." Whether through fear, ignorance, or beatific embrace, death is an obsession that is universally shared. Though the 78 may never die, its collectors will. All that anyone can hope, Ms. Petrusich tells us, is that something–inexplicable as it may be–will be left behind.