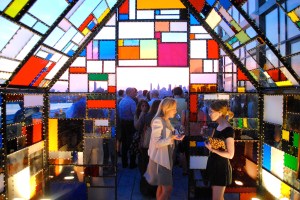 As part of a weekend long celebration for Pride, trendy Williamsburg hotel, The Wythe, hosted a series of parties, film screenings, and a pop-up market.
At the center of these events was a glass pop-up chapel on the hotel's rooftop terrace. It's intention was more than just decorative– the hotel offered couples the chance to get married in the chapel. For a $1,500 fee, an on-site minister (a local Brooklyn artist and friend of the Wythe who got ordained online) would officiate your ceremony.
The glass chapel is a remodeling of artist Tom Fruin's original "Maxikiosco," which was built out of recycled materials in a neighborhood outside of Buenos Aires. "On a very superficial level, it's a shattered version of the rainbow," Mr. Fruin told the Observer. The piece has over 1,000 tiles of colored material.
"It's meant to be a celebration," said Mr. Fruin. "It's the embodiment of a party."
The Wythe's co-founder and General Manager Peter Lawrence, who helped curate and organize the events, said he wanted to bring Pride celebrations to his side of the river, where before there had been none.
"I think because Brooklyn lacks a hub, like Manhattan has, people feel like they have to cross the river. But The Wythe wants to become that hub. So it seemed natural for us to host something big," he said. "And people are loving it."
The festivities began on Thursday with a screening of How to Survive a Plague, the 2012 movie about the AIDS epidemic, followed by two more LGBT-centric film screenings Saturday and Sunday. Friday night's "The Pride Ball" party drew a colorful crowd to the garden bar, and on Saturday guests were taken to the rooftop terrace, home of the glass chapel, for the "Dubble Dip" party. Lit from within, the chapel glowed like a 3-D rainbow. Sunday's celebrations culminated with a pop-up market, open to the public, which highlighted local artisans.
Mr. Lawrence said the Wythe is interested in being more than a "check in, check out," hotel. The Pride celebrations are here to stay.
And as for the chapel? No couples ended up getting married. But one partygoer said you could see it on the Brooklyn skyline all the way from Manhattan.
It became a literal beacon of not only LGBT pride but Brooklyn pride. What could be more powerful than that?