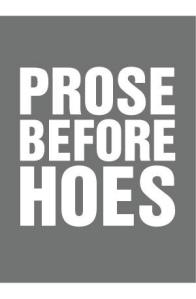 A group of employees at the Strand, Greenwich Village's iconic bookstore, are protesting the sale of a derogatory item.
The controversy stems from a refrigerator magnet costing $3.95 which is adorned with the snarky phrase: "Prose Before Hoes." It's an obvious play on the infamous fraternity idiom, "Bros Before Hoes," but Strand employees are speaking out.
According to DNAinfo, a group of eight employees have sent a letter to the owners of the bookstore expressing their discontent with the item.
"There are people among your staff who find your recent magnet, 'Prose Before Hoes,' offensive, and in violation of our accepted standards of decorum at the Strand," the email said. "It is an insult to our customers and members of our staff."
But what if these angered workers are simply jumping to conclusions about the magnet's meaning? Beneath this hurtful controversy lies a reasonable idiom, one especially applicable to literary folk working in a bookstore. A "hoe" is a garden tool. A "ho" is a shortened version of "whore." In reality, this quirky little magnet is saying: "Instead of toiling in the fields, working up a sweat, I would prefer to indulge in an exceptional piece of literature." It's hard to imagine that any of the employees would have issue with that.
Slap a picture of a garden hoe on that magnet and voila, problem solved.