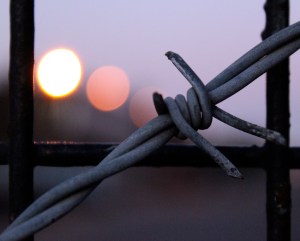 If you do everything you can, you have a shot at a sliver lining. Right, Bradley Cooper?
Unless you live in New York City.
The NYPD detained Schizophrenic patient Clifford Brown after his two-day escape from Creedmoor Psychiatric Facility amidst a flurry of bad press about New York's mental health care system.
Mr. Brown made a break for it around 2 p.m. on Tuesday and managed to dodge the cops until 2:45 a.m Thursday, according to DNA info. The 27-year old patient hopped the chain-link fence on the south side of the facility on Winchester Boulevard in Queens Village.
The escape echoes poorly for Creedmoor in the wake of convicted killer Raymond Morillo's disappearance from the facility earlier this year. Mr. Morillo, who served 14 years for manslaughter, slipped out equipped with his friend's ID to swindle security guards.
The Office of Mental Health said it would soup up security at Creedmoor after Mr. Morillo's January escape. At least Mr. Brown didn't make it all the way to Tennessee, as Mr. Morillo did.
But New York's egregious track record is piling up. Two Rikers Island deaths—one 39-year old who perished under deplorable conditions, and another veteran who "baked to death" in his cell—faced widespread press coverage this year. Mental illnesses afflicted both inmates and affect 40 percent of the city's jailed population.
Mayor de Blasio has been driven to appoint a task force to look into the NYPD's treatment of the mentally ill.
"Correctional institutions are such a poor substitute for mental hospitals, which is what they're basically functioning as in our society," Dr. Bandy Lee, a Yale psychiatrist told the AP. "The problem is the correction setting is not fit to deliver the proper care, and in fact many of the settings exacerbate their symptoms."
For New York inmates, it seems that the concrete is bleak on either side of the fence.