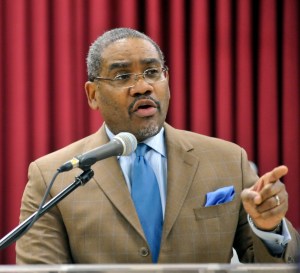 A Cambria Heights teen had a taste of victory when his artwork won the Congressional Art Competition earlier this year. But his work won't be displayed in Capitol Hill, and his family is blaming Queens Rep. Gregory Meeks, the Daily News reports.
Kevin Cutler, 18, is a senior at the Humanities and Arts Magnet School and one of the 400 winners of the 32-year-old art competition. Only one teen from each congressional district is chosen to have his or her work displayed on the prestigious walls of Cannon Tunnel in the U.S. Capitol.
"Everyone has a ticket out of poverty," the teen's uncle, Tony Williams, told the Daily News. "I told him his ticket out of town was his art. He already earned it."
But the day before his piece was due at Capitol Hill, Cutler received notice from Rep. Meeks' (D-Queens) office that his Western-style "Wanted" poster had been mysteriously destroyed. Cutler was left scrambling, working through the night to reproduce his piece by early the next morning.
He was later told his artwork didn't make it to D.C. on time, leaving Cutler's family furious. The family had already bought non-refundable tickets to Washington D.C. to attend the June 26 ceremony.
The artwork in question depicts Cutler wearing a hoodie over his head withe the words "Wanted Dead or Alive" around him, with a reward of $1 million. Cutler said his inspiration for his work was out of anger for the people who told him he wouldn't make it as an artist.
Williams said the artwork may have been too "dark" for Meeks' taste.
"It was full of pain because that's all he knows," he said. "He's had a hard life. He's gone through about five daddies. Dysfunctional doesn't even begin to describe it."
Meeks said he did not see the piece until it arrived via mail, with a tear through the middle. He said when his office received the second submission, it was too late to have it framed and sent to the Capitol in time.
"When I won, it was like validation for me, like this was the path I should take," said Cutler, the graduating high school senior who says he can't afford to attend college. "Then it was ripped away from me. I feel like I was stabbed in the back, sabotaged."