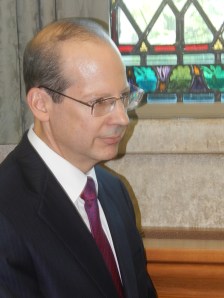 TRENTON – Chief Justice Stuart Rabner of the State Supreme Court said if the Senate Judiciary Committee wants to sample his brand of decision-making, they need look no further than his resolution of a statewide political fight.
After nearly seven years on the state's high court, Rabner, a Caldwell resident, went before state Sen. Nick Scutari (D-22) and his committee this afternoon in pursuit of reappointment to the court.
A Jon Corzine appointee originally, Rabner said he deeply appreciated Gov. Chris Christie's decision to re-nominate him, and used his work to supply a tiebreaker to the 2011 reapportionment commission as an example of how he makes decisions.
Himself serving as a tiebreaker to find a redistricting tiebreaker, the justice asked members of the Republican and Democratic teams to submit names to him of experts they believed suitable to serve as tiebreaker.
Rabner found in those submissions a match from either side, selecting the late Prof. Alan Rosenthal of Rutgers University.
"I hope you think the process was a fair one," Rabner told the senators.
State Sen. Gerald Cardinale (R-39) didn't think it was fair.
"I believe it is your duty," the veteran GOP senator said. "You have a responsibility to appoint a fair and impartial person. It is not a good excuse to pass that decision along."
Rabner fought back, noting that the agreed-on name was not binding.
"As I said to the partiers the last time, 'It's not automatic.' I would look favorably on that individual [but make the final decision]," he said.
Rabner also noted that he didn't want the court tarred by the decision, which was one of the advantages of him selecting a name provided by the two warring redistricting parties.