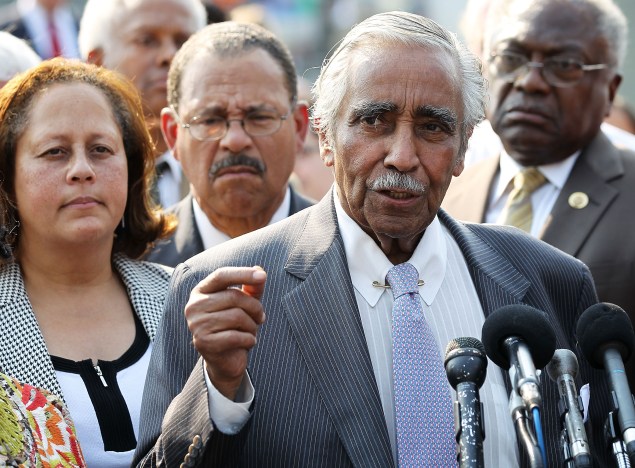 Congressman Charlie Rangel's campaign is fuming after a staffer for a top rival tweeted that the veteran lawmaker's minions were distributing "fake eviction" fliers throughout the district in an attempt to suppress the vote.
Lis Smith, a spokeswoman for State Senator Adriano Espaillat, tweeted yesterday that Mr. Rangel was "up to old tricks, sending out fake EVICTION NOTICES to residents of #NY13. Disgusting tactic, not exactly sign of confidence."
Mr. Rangel, however, vehemently denied he had anything to do with the alleged notices.
"Congressman Rangel marched with Dr. Martin Luther King Jr. to secure the right to vote, and he has fought his entire career in Congress to protect that fundamental right. For the Espaillat campaign to wildly accuse the Congressman of voter suppression with no evidence whatsoever is ugly and divisive politics at its worst," said Charlie King, a senior adviser for Mr. Rangel, in a statement to the Observer.
"It's unconscionable. Senator Espaillat should apologize for making such irresponsible accusations and stick to the issues," Mr. King added. "We all recognize that is hard for him because he has no record to talk about, but character assassination through unsupported attacks is truly beyond the pale. Shame on Senator Espaillat for bringing this campaign into the gutter – his campaign has lost all credibility."
Ms. Smith, who also tweeted that Mr. Rangel "should be above" sending false eviction notices to voters in the upper Manhattan and Bronx-based district, provided photographs of the fliers which were paid for by a group called "the Committee for Truth of Washington Heights." She told the Observer yesterday that the Espaillat campaign had received "a few calls" about the notices. (It is not immediately clear what campaign the committee is tied to.)
Rev. Al Sharpton, the Harlem power broker who is not known to be close to Mr. Rangel, also weighed in on the fliers.
"Voter suppression anywhere is unacceptable. But for it be present in the 13th Congressional District is a truly serious matter," Mr. Sharpton told the Observer. "If there is any evidence of voter suppression by any candidate, that evidence should be produced at once. And if there is no evidence, candidates should stop using those kinds of questionable campaign tactics … Campaign tactics like this pull us apart rather than keep us together."
This is not the first time false eviction notices–or claims of their existence–have popped up in the bitter Democratic primary, now less than a week away. The Daily News reported in April that Bronx residents were receiving notices on their doors that urged them not to vote for Mr. Espaillat because landlords who had "bankrolled" his campaign could throw them out of their apartments. Long-shot candidate Yolanda Garcia was behind the fliers, according to the paper.
Since this morning, Rangel supporters like Councilwoman Inez Dickens, Assemblyman Keith Wright and Assemblyman Danny O'Donnell have denounced Mr. Espaillat's campaign for making the accusation about the notices. A spokesman for Mr. Espaillat, however, struck back, alleging a pattern of falsehoods on the part of Mr. Rangel.
"Congressman Rangel has distributed deceptive fliers claiming to have the Presidents' endorsement, when in reality the President said he should end his career with dignity," the spokesman said. "He told voters at last weeks debate he was with Democrats like Nancy Pelosi on Wall Street reform when his voting record proved otherwise. He sent out a laughable mailer last week suggesting Senator Adriano was linked to Sarah Palin. He's bizarrely claimed he had no connection with attacks launched by his own paid spokesman."
"Who else could possibly be behind these already discredited fliers? This latest dirty trick is another reason why voters across the district want change," he added.
Mr. Rangel, a Harlem lawmaker for more than 40 years, is also fending off a challenge from Pastor Mike Walrond. The Democratic primary is set for June 24.
This story has been updated with a photograph of the flier and additional comments.