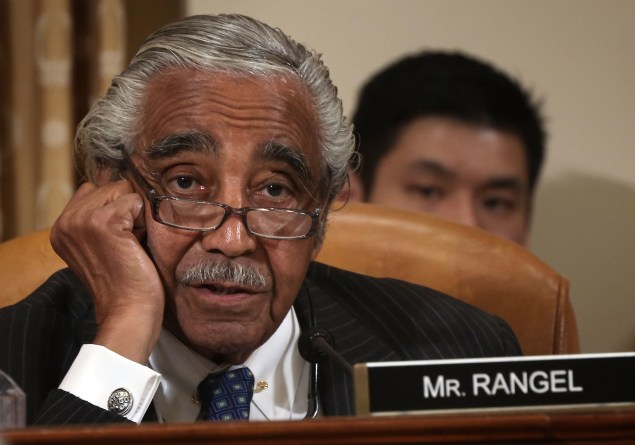 Two days after a bitter Democratic primary, Congressman Charlie Rangel will trade the court of public opinion for the court room.
Mr. Rangel's legal fight against a House of Representatives censure will continue on June 26, when congressional attorneys will mount a defense against his lawsuit. The Harlem lawmaker has already burned through more than $100,000 in legal fees fighting the 2010 censure.
Mr. Rangel, who is battling the censure at the United States Court of Appeals in Washington after a federal judge dismissed the suit in December, first brought the lawsuit against Republican House Speaker John Boehner and six other lawmakers in 2013. Congress censured Mr. Rangel four years ago for a slew of ethics violations that included raising millions of dollars to pay for an eponymous research center at City College.
Since then, Mr. Rangel–who has served in Congress for more than 40 years–has been fighting to salvage his reputation in Washington. In a complaint filed last year, Mr. Rangel alleged "numerous, flagrant, knowing and intentional violations" of his due process rights and said he suffered "irreparable harm that cannot be compensated by money damages."
After the congressional defense is delivered on June 26, Mr. Rangel and his legal team are due back in court on July 10 to give their reply. Mr. Rangel's lawyer, Jay Goldberg, filed a motion on May 27 for an oral argument to be granted–if a judge allows the argument, Mr. Rangel, known for his ability to be both eloquent and exceedingly blunt, could take the stand. (Mr. Goldberg did not return a request for comment.)
Mr. Rangel's top rival in the Democratic primary for the upper Manhattan and Bronx-based seat, State Senator Adriano Espaillat, ripped Mr. Rangel for continuing to carry forward a lawsuit a campaign spokesman called "bizarre" and "disappointing."
"How can Congressman Rangel credibly say he's still effective when he's squandered the past year in court trying to overturn his 2010 ethics censure?" asked a spokesman for Mr. Espaillat. "Upper Manhattan and Bronx families need a Representative focused on creating good paying jobs, protecting us from gun violence, and passing immigration reform – not someone wasting time and taxpayer resources on a bizarre lawsuit that was already dismissed."
"Considering he hasn't passed a bill since 2010, it is disappointing that he seems more focused on his abuse of affordable housing and other scandals than serving his constituents," the spokesman added.
Mr. Rangel's campaign, in turn, trashed Mr. Espaillat's legislative record.
"As the lead sponsor of Obamacare and many other laws, Congressman Rangel was recently named the most productive member of Congress by an independent tracking organization, while NYPIRG stated that Senator Espaillat has made no significant impact on public policy," said Charlie King, a senior adviser to Mr. Rangel.
"After spending 20 years in Albany with no record of accomplishment, Senator Espaillat is probably best known for siding with Republicans to abolish the commuter tax –a $7B tax cut to wealthy suburban residents at the expense of New York City," Mr. King continued. "We can't afford to throw away Congressman Rangel's seniority and experience to a freshman congressman who no one has ever heard of and hasn't gotten anything done."