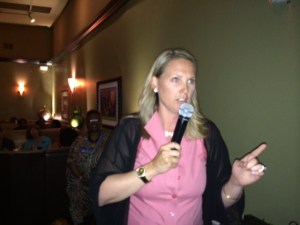 NEW BRUNSWICK – Other names have been thrown into the 2016 Presidential nomination game by some Democratic Party politicos.
New York Governor Andrew Cuomo. Maryland Governor Martin O'Malley. U.S. Vice President Joe Biden.
But inside of a packed Delta's Restaurant in downtown New Brunswick on Wednesday night, a group of fired-up New Jersey Democrats made it plain which candidate they are down with in 2016.
"Ready for Hillary is a federal political action committee that started about two years ago with two volunteers and a post office box," said Safanya Searcy, a veteran Essex County Democratic power player and one of the events' co-chairs, before at least 100 supporters of former First Lady, U.S. Senator and Secretary of State Hillary Clinton. "That movement was basically created and designed to petition former Secretary of State Clinton to run for office. At this moment in time, we really don't exactly know what Hillary will do for sure, but what we do know is that we've transitioned from two volunteers and a post office box to now more than two million people across the country who are petitioning the former Secretary of State to run for office. We as New Jerseyans understand the kind of fight and the kind of plight that it takes to run for office, right? We understand what it takes. This particular kind of PAC is designed to be able to start very early on the grass-roots level to raise the kind of money necessary to be able to be competitive in a Presidential election, particularly a woman who is running for President."
Just in case anybody in the room failed to understand why they showed up Wednesday night, Jeannine Frisby LaRue, senior vice president at Kaufman Zita Group, one of New Jersey's top lobbying and public affairs firms, made things crystal clear.
"We hear a lot of talk about whether or not this is the time for Hillary Clinton. But guess what? When we're done with these types of events all around the country, she's running for President," Frisby LaRue said as the highly Hillary-happy crowd cheered her on. "She's running for President. Hillary is running for President."
Before the evening ended, Maggie Moran, president and CEO of M Public Affairs and adjunct professor at Rutgers University's Eagleton Institute of Politics, set an aggressive and alliterative tone at the Ready for Hillary PAC's inaugural event in New Jersey.
"New Jersey is hot for Hillary. New Jersey is hungry for Hillary. New Jersey is hopeful for Hillary. And New Jersey, come hell or high water, is going to hustle," said Moran, the wife of Belmar Mayor Matt Doherty. "So let's make this prediction as one team tonight. Come November 2016, New Jersey is voting for Hillary Clinton for President."