In my endless quest for all things interesting and TV related I stumbled across this study from last year conducted by the The Leeds Centre for Sexual Health. Using a survey on the sexual health-based reality show Unsafe Sex in the City, the study concluded the "findings suggest that health promotion via reality television is acceptable and can lead to increased viewer knowledge and hence behavior change."
Now, despite the study also containing the unfortunately hilarious patient comment "I saw someone I had sex with on the programme being treated for chlamydia," that's not what got my brain churning. I was wondering if the study still holds up, if reality TV is still effectively promoting sexual awareness and modifying potentially dangerous sexual behavior.
Well, my "research" shows it goes a bit further than that. Here are just some samples from today's reality TV options that may modify your sexual behavior. Okay, you might never, ever want to have sex again. So, I guess, study confirmed?
Keeping Up with the Kardashians – Feeling sexy? Feeling like a good bout of promiscuous sex? I prescribe a big old helping of plastic lagoon creature Kardashian matriarch Kris Jenner crashing a pole dancing class. (Bonus video: Kardashian placenta eating party!)
[youtube https://www.youtube.com/watch?v=0Gqb7ECJnoA]
Born in the WIld – This show hasn't even debuted yet, but it is effective enough. It revolves around women going "natural" and giving unassisted birth in nature. Go ahead, look at that picture down there and then have unprotected sex.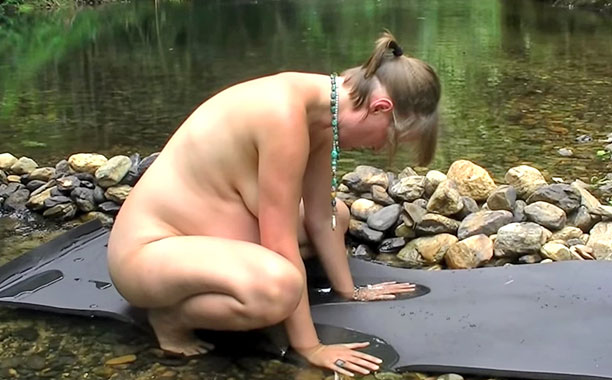 Real Housewives of New York – Walk of shames and one night stands are safe and cool, amirite? Well, here's a 50 year old woman describing hers.
[protected-iframe id="ab918d06d1f57cc457786316e609804a-35584880-59143305″ info="http://player.theplatform.com/p/PHSl-B/yT7k3t_YLXoZ/embed/select/9oG4QEXItiIT" width="640″ height="480″ frameborder="0″]
Bad Sex – This is for the people who made it through the first three and still aren't sexually aware or whatever. This is a full episode, 42 whole minutes, of Logo TV's Bad Sex chronicling a man with a clown fetish. For those short on time, just watch 2:15-2:30 and slowly wave goodbye to your libido. (unless you also have a clown fetish, in which case…you're welcome?)