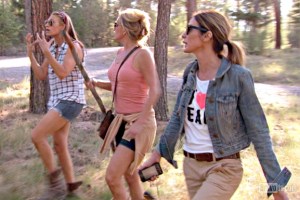 This week, my little RHONYs are still in Montana, and according to the previews for next week they will spend at least part of the next episode in Montana as well. Montana is to The Real Housewives of New York City what the island was to the cast of Lost. It's purgatory, is what I'm saying, and Sonja's facialist is the Richard. Just keeps coming back!
Anyway, in Beaver cabin, Carole and Ramona are wearing their finest Blanche DuBois dressing gowns, as women on vacation out west are wont to do. Sonja is dressed more normally, but is making up for it by going on an absolute rampage through the kitchen. The reason? Kristen has informed them that a private chef will be cooking dinner for them that night.
"We're staying in Cabin Fever zone, right here," Sonja yells, opening and closing cabinets like that lady ghost in The Sixth Sense. "Like I need to see another personal chef?" Sonja, you see, has hung all of her hopes on Missoula's restaurant scene.
"I need to see where people go in Missoula, I need to see where Will Smith goes, I need to see where Reese Weatherspoon goes [sic]," she whines. What she does not say, but is underscoring everything like an 808, is the eternal refrain of Sonja's soul: "WHERE THE BOYS AT????" The girls stick to their guns about the evening in with the private chef, so she has to make do with harassing Henry the cute ranch hand about what he's done with her almond milk.
Everyone pulls themselves together enough to go fly fishing, where they all generally splash around and shriek in their hip waders and probably scare away every fish within a fifty mile radius. Back at Beaver Cabin, Ramona and Sonja are screaming about how Kristen isn't a very good hostess because there weren't enough towels in the cabin that morning, apparently confusing their fellow cast member for resort staff. How is she supposed to know the towel situation in a cabin that's not hers?
They keep bitching about how disorganized/unprepared everything is, and it's not clear if they realize that the dinner they are having is going to be hosted in Antlers Cabin, so it doesn't matter how shambolic a state the Beaver Cabin is in, or if they do and are just really leaning in to being horrible nightmare guests. Eventually, I guess, they figure it out and trek over to the other house, where the dinner looks incredible and Kristen has been diluting her bloodstream with white wine.
Despite this auspicious start, talk soon turns back to Sonja's facialist. It's ridiculous and now I am out on Luann—not only is she mad at Sonja for stuff that Sonja never said, she's mad that Sonja didn't kick the facialist out of her house, which is a moment in time that we will never be able to go back to, so what does it matter. Let it go, Luann! Let it goooooooooo.
She will not, and storms off to bed, and that's when I realize that this entire episode takes place in Montana. 🙁
The next morning, Sonja and Luann have separated and seem to be in good spirits. Sonja retells the events of the evening, blaming everything on Luann's "perfect life" and ability to shop all the time. I would like Sonja to explain my last fight to me: "Obviously you can't get along, you're a Bentley and he's a Bugati!" I feel like the inside of her head is just a jumble of online shopping carts from luxury e-commerce sites mixed with excerpts from Harlequin Blaze erotica.
Carole goes on a hike in pigtails and a dress that would have been cast aside as "a little matronly" by the proprietor of a Gold Rush brothel. Kristen and Heather are starting to get on each other's nerves a bit—or rather, Kristen is resenting Heather's sportiness/enthusiasm, I think because it makes her feel like this trip belongs to her a little less every time. Understandable, but not Heather's fault.
Heather, Luann and Kristen go rappelling, and Kristen makes it a big production, yelling at them for encouraging her and crying when she gets to the bottom. Heather handles it fine and tells Kristen that she doesn't have to do it if it's going to upset her this much, and Kristen takes both of those things personally. Meanwhile, Carole, Sonja and Ramona go skeet shooting and Sonja hits on their instructor by implying that he's married to his cousin.
Now that everyone has alienated the staff at the resort/each other, it's time to come together for "geocaching," which as I understand it is a GPS-based treasure hunt of some kind for buried treasure? Who put the treasure there, though? And what is it? And how hard can it be to find if it's GPS-detectable?
None of these questions matter, because I, much like drunk Heather (incidentally, maybe my favorite Heather so far), am over it. The ladies are all turnt and tired after a long day of offending other human beings, and I get that Kristen really wants to do this activity, but maybe read the room, you know? It's not a good look for a hostess to force her guests to do something that only the hostess wants to do. Let it gooooooo, Kristen.
Instead of letting it gooooooo, Kristen accuses Heather of sabotaging the trip, which is pretty uncool, and Heather responds by getting irritated and a little petty, which also isn't cool, but she's four beers in and you want her to wander around in the woods, Kristen! At least she outlasted Ramona!
Next week: The Real Housewives of Montana go to a rodeo. Take us back to New York! I'm sure Henry the ranch hand would appreciate it!