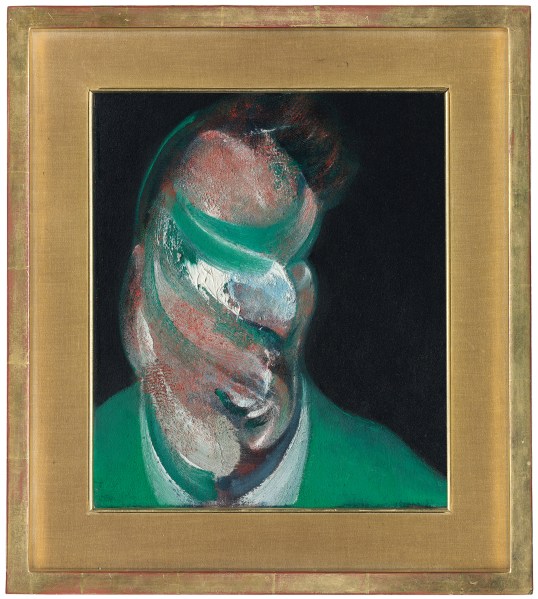 On the occasion of author Roald Dahl's 72nd birthday in 1988, a celebratory supper was thrown for him at London's Garrick Club. Dahl's literary publisher, Tom Maschler, invited Dahl to select the guests. Among those he chose was the Irish figurative painter Francis Bacon. "It was a great compliment that Bacon showed up on time and was sober," said Luke Kelly, Dahl's grandson, who now manages his estate. The actress Joanna Lumley, another attendee, told Dahl's biographer Donald Sturrock that Bacon's "little round black eyes sparkled" when his host spoke to him.
The feeling was mutual. Dahl revered Bacon as a person and as an artist. Both died less than half a decade after the Garrick Club supper, but the fact that the author of Charlie and the Chocolate Factory and Matilda, something of a serial Romeo in his private life, and the gay painter of the screaming popes were creative kindred spirits, as well as friends, is now being reflected in the sale of Dahl's Study for Head of Lucian Freud. The painting, which Dahl bought for $4,850 in 1967 with the US proceeds from Charlie and the Chocolate Factory, will go under the hammer at Christie's in London on July 1. It was one of four Bacon canvases Dahl purchased during the 1960s.
Study for Head of Lucian Freud is expected to fetch between $13 and $20 million. Many think this a conservative estimate since Bacon's 6-foot painting Three Studies of Lucian Freud set the world-record price for a picture at auction, commanding $142.4 million at Christie's New York last November. Dahl's picture is a smaller, more modest depiction of fellow artist Freud than that, but it is quintessential Francis Bacon, an electrifyingly bold maelstrom that twists and blurs Freud's face to arresting effect.
"It's an amazing painting especially in terms of its feeling of emotion and flux," Mr. Kelly told the Observer recently over lunch at the Mercer Kitchen. Mr. Kelly, 27, lives in Manhattan and London, having recently relocated from Harrisville, New Hampshire, where he ran an antiques showroom. Tall and rangy like his grandfather, though one suspects much more outgoing, Mr. Kelly is passionate about keeping Dahl's flame alive, overseeing screen and stage adaptations, as well as the philanthropic side. (Proceeds from the Christie's sale go to Roald Dahl's Marvellous Children's Charity and The Roald Dahl Museum and Story Centre in Buckinghamshire.) Mr. Kelly is reminiscent of the type of young man found in a Jon Robin Baitz play or indie film seeking to ensure future generations enjoy his grandfather's creative legacy. In fiction, such characters often get undone by philistine commerce-driven relatives, but in this case, the darkness seems limited to being within Dahl's work.
"Roald had the kind of life that doesn't happen nowadays," Mr. Kelly reflected, citing him being a Second World War fighter pilot and spy, husband of Oscar-winning actress Patricia Neal, adult short story writer and a children's novelist, which brought him most acclaim. "There were 50 lives in one life. I don't want to say Zelig because that sounds fortuitous but he popped up everywhere. He was friends with Roosevelt, Disney, Noel Coward, Hemingway and Bacon."
Dahl was also a devoted art collector, with tastes ranging from Cézanne to Soutine. He kept his art on display in Gipsy House, the Georgian cottage in Great Missenden, Buckinghamshire, where he lived and worked. Other artwork would come and go, but Study for Head of Lucian Freud always remained in the living room.
"A creepy family member," Mr. Kelly joked. "For me it was a real mark of continuity. Things would change but that painting was always there. It was something you had to notice, slightly unnerving and unsettling in a good way. It felt like a huge echo of Roald in terms of his interests."
And what dark interests they were. It's not only disturbing short story collections such as Switch Bitch (1974); ask a parent who reads James and the Giant Peach to their kids only to awkwardly twitch at the beginning when James' parents are killed by an escaped rhinoceros. Unease hovers over Matilda, now a hit Broadway musical. "Matilda is basically a story about child abuse," Mr. Kelly observed. "There's a tender side when she finds Miss Honey, but her family life is appalling."
These twisted sensibilities bonded Dahl and Bacon. "The parallel between Bacon's work and Dahl's work is that dark underside, the emotional intensity," said Mr. Kelly. "They both liked the cracks and the crevices and treasured the subversive. You see it in their work and in their relationship." Dahl told his stepdaughter Neisha Crosland he liked Bacon's art for its "blend of emotion and profound economy."
The pair first met in 1958 at a London art exhibition for Bacon, Victor Passmore and Matthew Smith. They shared similar artistic tastes, in particular admiring Smith, a painter who specialized in nudes and still lifes, and Van Gogh. "They were hard-living people who loved the dark things," Mr. Kelly noted. "Bacon would rip out eyes from paintings and photographs, and Roald cut out the eyes from serial killers from the newspaper because he thought you could look at eyes and create a story around that."
Dahl did not go for Bacon's sybaritic London lifestyle, which revolved around drinking at West End haunt The Colony Room (where Lucian Freud was also a regular). "Bacon would come to Gipsy House and have dinner and I imagine they went to drinking clubs," says Mr. Kelly. "They bonded over a shared love of drinking, gambling and art. Both spoke their mind, and they didn't suffer fools gladly."
In the Christie's catalogue for the sale, Dahl's daughter Lucy Dahl cites their divergent nocturnal attitudes when she recalls being driven by her father in London in the 1980s. He spotted Bacon and offered him a lift. Dahl told Bacon, "I'm off to smuggle my daughter Lucy into the casino for a quick tickle on the tables." When Bacon exited the car, Dahl declared to his daughter, "He's off to the red-light district," before adding, "He's an absolute genius."
Dahl was clearly protective of Bacon. Mr. Sturrock recorded in his biography, Storyteller: The Life of Roald Dahl: "I saw him explode only once. He was on the telephone to the curator of a Francis Bacon exhibition in New York who wanted to borrow one of his paintings and had called while he had guests or dinner." Mr. Kelly believes Bacon appealed to Dahl's artistic eclecticism: "Roald collected challenging art, not the sort that you would find in someone's house at that time. This is not a painting by Freud of the Queen owned by Roald! It's darkness and psychology. He felt Bacon was doing something fresh at a time when he was doing something fresh in children's writing."
There is another poignant reason why Dahl was drawn to Study for Head of Lucian Freud. The 1960s was a period of creative rebirth for Dahl with James and the Giant Peach and Charlie and the Chocolate Factory, Kiss Kiss—containing perhaps his best adult writing—and the script for the James Bond film You Only Live Twice. But it was also a decade marred by personal tragedy: in 1960 Dahl and Neal's son Theo suffered brain damage after being hit by a taxi while in his stroller crossing 85th Street and Madison Avenue. Two years later, their daughter Olivia died at age seven from inflammation of the brain caused by measles. In 1965, Patricia Neal, pregnant with their fourth daughter Lucy, suffered three consecutive strokes and remained in a coma for three weeks. Dahl himself painstakingly oversaw her rehabilitation, and it's plausible that Bacon's portrait of Freud helped him to come to terms with her condition.
"This painting shows a sweep through the head," Mr. Kelly noted, "and it's almost impossible for me to look at it and not think, 'Your wife was no longer able to access parts of her mind or to speak, and so you buy a work where you've got a connection to Sigmund Freud with the psyche and a clear kind of tumult where the mind has been struck across in some way.'"
The convergence of Dahl, Bacon and Lucian Freud at the Christie's sale brings together three British outsiders. (Bacon was Irish and gay, Dahl Welsh-born to Norwegian parents and Freud born in Berlin to Austrian and German parents.) All three were included in a 2012 leaked list of names that turned down a British honor from the Queen. They were prominent members of the U.K. cultural establishment, but it was a club they never felt they properly belonged to. "None of them were really English," Mr. Kelly pointed out. "Roald wasn't really accepted as a children's author—he only won one literary prize and spent his whole life thinking he was an outsider."
Dahl is certainly judged differently now. Upcoming adaptations of his stories include Esio Trot, adapted by Richard Curtis, starring Dustin Hoffman and Dame Judi Dench, and Steven Spielberg's live-action version of The BFG, due in 2016. Before that, it's the Bacon sale.
"It's inevitably sad when something is sold that represents someone," Mr. Kelly said, "and in many ways the picture represents my grandfather's interests and the key to his tastes." Paraphrasing Dylan Thomas, he doesn't have a strong preference where Study for Head of Lucian Freud ends up next: "No matter who it goes to, it's the kind of work that is not going to go quietly into the good night."