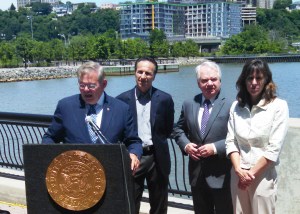 By CHASE BRUSH
HOBOKEN – How does one win re-election in New Jersey — particularly in Hudson County, where a born-and-raised, blue-collar culture is mixed up with a burgeoning yuppie one — without broad party support?
Ask Democratic Freeholder Anthony Romano.
"It's the people that really won the election," Romano, a long-time working-class favorite in the state's smallest county, told PolitickerNJ today. "All volunteers — Hudson County workers, the Sheriff's Office, Hoboken Police, Hoboken fire, Jersey City Police, Jersey City Fire, the cab drivers, bus drivers from the board of education, people from the Housing Authority. It was their victory through me. They answered the bell."
Romano — or "Stick", for short — takes little credit for his recent re-election, which might have just as easily gone the other way. The Democratic incumbent was nearly booted from his Freeholder seat during last month's primary when the Hudson County Democratic Organization (HCDO) backed another candidate.
That candidate was attorney Phil Cohen, a product of Hoboken's white-collar crowd and Hoboken Mayor Dawn Zimmer's own choice.
The irony of the situation must have at least momentarily crossed Romano's mind, then, as he stood grinning behind Hoboken Mayor Zimmer at a press conference along the Weehawken river walk earlier today.
But that's not to say he's bitter.
"I'm always going to do what's best for the people. And I'm going to govern, and I'm going to work with Mayor Zimmer, and I have a very good relationship with Mayor [Steve] Fulop," Romano said, referring to the neighboring Jersey City politician. "I mean I'll reach out, it's going to be up to the Hoboken officials. I'm there to work with them for the betterment of our residents and our citizens."
Menendez appeared today with Hudson County Freeholder Romano, Weehawken Mayor Richard Turner, and Zimmer to unveil an ambitious plan to protect the city from future flooding along its waterfront.
Turning their attention to the local project, Zimmer said she's committed.
"I'm really excited that we have this tremendous, really historic opportunity for the city of Hoboken," Zimmer, who spoke at the press conference just south of Weehawken Cove earlier today, said of the project.
Using $230 million in federal funds, Zimmer said the plan aims to transform the area into a waterfront park that will act as a levy system to fend off future storm surges. They'll also use an additional $250 million federal grant to create a park on the southwest side of the city that will keep rainwater from entering its sewer system.
Zimmer called it a "park as defense" approach to protecting the area around the cove, which suffered from considerable flooding following Hurricane Sandy in 2012 and regularly floods during heavy rainfall.
"We want to make sure that city-wide we're implementing green infrastructure," Zimmer said, adding that both plans are part of the city's "overall resiliency strategy."
Hoboken was one of six "Rebuild by Design" grant winners — a competition created by the Obama administration's Hurricane Sandy Task Force last year to spur innovative design projects aimed at protecting the region from future natural disasters — announced by the state earlier this month.
Specific details about the project were sparse. Zimmer said a concrete timeline is in the works and the funding is still working itself through the state, but she hopes the park will be completed in the next several years.
"Tomorrow isn't soon enough," she said.
Senator Menendez praised the project as innovative and comprehensive, adding that he thinks it can be replicated in other areas vulnerable to future storms or disasters.
"If we are looking for a program or programs that can be national models, this is one of them," he said.
He also saluted Mayor Turner for his participation in the project.
"When we think about these things as not as individual communities but when we have the realities, as we do here in the Weehawken Cove and in communities that are just across the street from each other, you have to think in a more regional context,' he said.