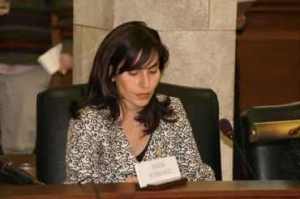 TRENTON – Senate Committee Chair M. Teresa Ruiz (D-29) and state Sen. Michael Doherty (R-23) exchanged heated words on the committee this afternoon.
"All you've done is cut me off," Doherty fumed at the chair. "I don't see you cutting anyone else off but me."
Irritated by her GOP colleague's abrasive, gratuitous – in her view – quizzing of the superintendents appearing before the committee, Ruiz urged an offline resolution of the dispute.
The senators clashed moments before the education committee passed Ruiz's bill prohibiting the Department of Education from regulating the maximum salary amount a board of education could provide to a superintendent of schools pursuant to the employment contract.
In agreement on this issue with Gov. Chris Christie, Doherty opposed the bill.
"The governor makes $175,000," he said. "I don't think we can continue to pay [superintendents] more than the governor of New Jersey."
State Sen. Diane Allen (R-7) also opposed the bill.
Author of the bill, Ruiz said Senate Bill 1987 is about ensuring New Jersey has opportunity to land top flight talent.
"I don't think the cap is breaking the bank," the chair said.