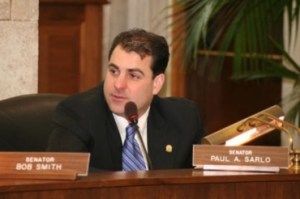 TRENTON – Senator Paul Sarlo (D-36), chair of the Senate Budget Committee, will drop the gavel on a special 3 p.m. meeting of the Senate Budget Committee.
"We're going to reconvene to re-evaluate and hopefully we will have a budget later this afternoon," Sarlo told PolitickerNJ.
"We're down to some minor spending items and some budget language," the senator added.
The Assembly Budget Committee just convened and broke after a brief discussion. The lawmakers do not yet have a budget in hand.
Sarlo said a budget document would be ready for public inspection by later this afternoon.
"At the end of the day there won't be a lot of drama,' the budget chairman surmised. "We all know what he's [Gov. Chris Christie's] going to do and we know what we're going to do."
Christie has repeatedly said he will veto the Democrats' millionaires' tax and use pension funds totaling $2.4 billion to help plug the state's budget gap.
"We'll be fine," said Sarlo, who said Democrats have preserved the balance of the state budget.