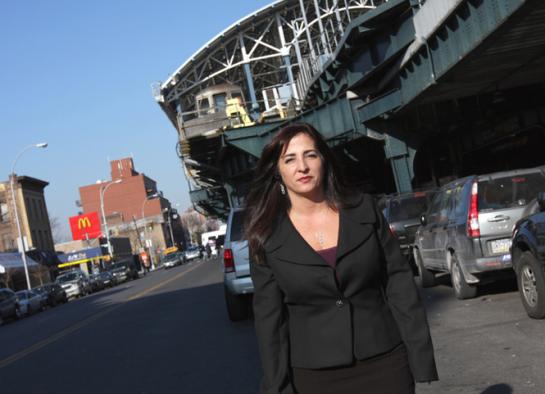 State Senator Diane Savino, a founding member of the breakaway Independent Democratic Conference, called for the Democratic challengers to her fellow IDC representatives to step down — or risk the Republicans winning a majority in the legislative body, endangering the recent "shotgun marriage" between her five-senator coalition and the larger party delegation.
Ms. Savino said that Democrats Oliver Koppell and John Liu, who are respectively challenging IDC State Senators Jeff Klein and Tony Avella, should drop their bids for office now that her splinter group said it will not govern with the GOP and return to the party fold after the fall elections. Ms. Savino argued that Mr. Koppell and Mr. Liu are wasting valuable Democratic funds that would be better used to prevent the Republicans from picking up vulnerable seats elsewhere in the state.
"Why piss away money? If the only reason they've given for running is to have a united Democratic majority, they have no rationale for running," the senator told the Observer at a campaign event yesterday for Domenic Recchia, the Democratic challenger to GOP Congressman Michael Grimm. "The only thing worse than being forced into a shotgun marriage would be for all of us to be stuck in the minority together."
Mr. Koppell, a former councilman, has argued in the days since the announcement last Wednesday that Mr. Klein and the rest of the IDC members cannot be trusted to keep their bond with the Democrats — especially since the IDC continues to operate as a entity distinct from the rest of the caucus.
"I'm not convinced based on his statements. We can't be confident that he's going to follow through," the candidate told the Observer over the phone last week.
A spokesman for Mr. Liu, a former city comptroller, said he has no plans of dropping out against Mr. Avella. Mr. Liu will hold another fund-raiser tomorrow.
Ms. Savino admitted that the IDC was keeping its options open should the Republicans win more seats.
"We've said we will see what happens in November," she said.
At the same event for Mr. Recchia, Democratic Councilman Vincent Gentile said he will almost definitely not challenge his longtime Bay Ridge Republican rival, Senator Marty Golden. Mr. Gentile, now in his third and final term representing southern Brooklyn at the city level, told the Observer two weeks ago that he was weighing a run against Mr. Golden — but has since decided against it.
"I have no plans to do it at this point," said Mr. Gentile.