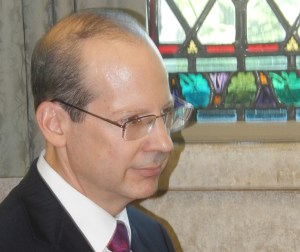 TRENTON – Chief Justice Stuart Rabner, the former attorney general under Gov. Jon Corzine who has served for seven years in the state Supreme Court and seeks reappointment to the high court, this afternoon received the support of the Senate Judiciary Committee.
Following a three-plus hours hearing, the vote in Rabner's favor was 11-2, with just GOP senators Joe Kyrillos (R-13) and Mike Doherty (R-23) voting in the negative.
If Rabner, 54, passes the whole senate – which he will – it's good for another 23 years on the high court.
State Senators Ray Lesniak (D-20), Brian P. Stack (D-33) and Nia Gill (D-34) were all particulalry praiseworthy of Rabner.
So was state Sen. Nick Scutari (D-22), chairman of the committee, who joined the chief justice in expressing gratitude to Gov. Chris Christie for re-upping Rabner.
Rabner's toughest critics included Doherty, Kyrillos and Sen. Gerald Cardinale (R-39).
State Sen. Kevin O'Toole (R-40) voted in the affirmative with the Democrats.
Doherty criticized Rabner for leading a court that appears to lack "intellectual curiousity" on the issue of schools funding.
He said he respects Rabner's professionalism, but can't back the justice's reappointment.
"This is not against you," said Doherty. "This is against the system you are part of."
Kyrillos poked the judge on the logjam of candidates for judgeships who can't get hearings. The senator wanted to know if Rabner thought he could do something to help.
Rabner said he can't.
For his part, Cardinale criticized Rabner's decision to break a tie on the 2011 legislative redistricting commission by choosing a name supplied by the colliding parties instead of summoning his own choice.
But Cardinale finally voted yes, because he believes Rabner is a sincere individual.
Sen. Kip Bateman (R-16) also voted yes.