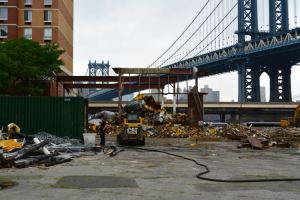 The put-upon postures that New York City developers often adopt, seemingly by habit, in the face of populist complaint can be rather distasteful: Creating Jobs; Housing the Masses; Shaping the Skyline. We get it: Ask not what your developer can do for you, ask what you can do for your developer! Extell CEO Gary Barnett can be particularly blustery in his self-regard. But in the case of the Extell project planned for a site encompassing 250 South Street and 229 Cherry Street, which is to include a 68-story market rate condo tower and a separate, much smaller affordable rental building, we find ourselves siding with Mr. Barnett, who reportedly took a shelling for the separate and unequal nature of the development last week at a meeting of Community Board 3.
In reaction to spirited charges of "economic segregation," Mr. Barnett and a business-formal team apparently remained impassive. (Extell, after all, is even now in the midst of construction at 1 Riverside Park, where the much-ballyhooed "poor door" will be in use.) Securing financing for a single mixed-income tower would not have been feasible, the developer said: "We don't live in a perfect world."
Much as that might have sounded like a familiar blend of callousness and corporate obfuscation, Mr. Barnett's explanation actually made pretty good sense. Speaking with the Observer by phone, an executive at a leading New York multifamily lending institution (who did not want to be identified) said that splitting the luxury condo portion of the development from the affordable rentals will grant Extell the possibility of creating two entirely different products, allowing Mr. Barnett to maximize profits at the site and, in turn, making him more amenable toward building affordable housing.
"There are buildings that have some condo properties on top," the lender said. "But I can't think of any that are primarily for sale and that have a smaller affordable rental component. This will allow [Mr. Barnett] to build the affordable units at a much lower dollar-per-square-foot rate. You can't build 90 percent of the building with really high ceilings and then change the structure totally for that smaller portion. This makes the affordable units much easier to deliver at a reasonable price for the developer. It's more cost effective to market and sell, and anything better for the project's economics is better for the lending side."
Some part of that increased ease of marketing may well arise from just the kind of segregation the plan's critics have in mind. Still, Extell's affordable Cherry Street building, whose prices will range from $833 per month for a studio to $1,082 a month for a two bedroom, is hardly anything to sneer at.The Dattner Architects' plan for the facility includes a yoga room and a fitness center, a rooftop garden and a tenant lounge. It is difficult, in this case, to understand just what it is that Mr. Barnett's opponents object to.
"You know, the city wants to build so many affordable units," the lender said. "It doesn't say they all have to be luxury. Here, this is is the best way to do it. There's a cost consideration, and at a certain point the developer moves ahead or doesn't move ahead. The lower that cost can be, the greater the chance is that he'll want to proceed."