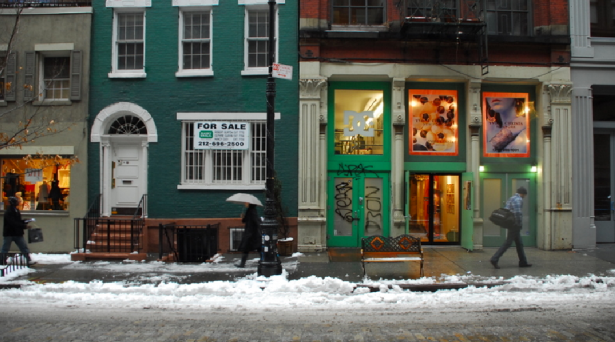 If you've been sitting on an incredible idea for a pop-up retail store — like a stand for your agave-sweetened raw vegan desserts, or a gallery space where you'd make a killing off selling your roommate's photography — there's a startup ready to fulfill all of your dreams.
It's called Storefront, and it allows you to book short term retail space for pop-up stores. As of today, they're adding an Instant Booking feature so that you can impulse shop for real estate. Most of the listings are upscale, but among the listings are little Manhattan boutiques that go for less than $100 a day.
As reported by our sister publication, the Commercial Observer, Storefront allows brokers and landlords to take advantage of extra spaces, offering flexible pricing to potential tenants:
"'Brokers and landlords want to keep their space filled, so they come to us to make sure they can fill it in those lag times between long term leases,' Storefront cofounder Tristan Pollock said. 'Some have completely switched to short term leases, so every few months, they're bringing in a new brand.'

"Storefront listings are on the smaller end of the commercial real estate spectrum, averaging 500 to 2000 square feet for a typical listing. Storefront users have been creative with their listings, and besides traditional retail space, Storefront lists parking lots, streets trucks and hotel lobbies — anywhere brands and businesses might want to set up nimble, experimental retail offerings."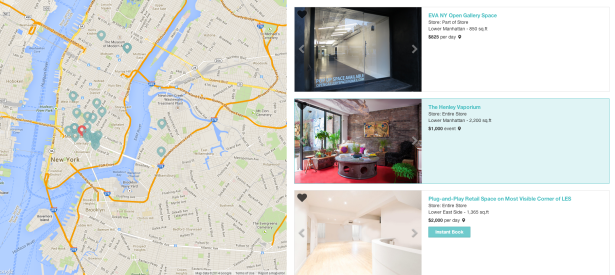 With Storefront, anyone from small entrepreneurs to marquee names like Kanye West can shop around for the right space and book it directly. Mr. Pollock told Betabeat that when he entered the commercial storefront industry, one in 10 retail spaces in the U.S. stood empty, largely because the barriers of entry into the real estate market.
"Retail isn't accessible for some artists and emerging business," Mr. Pollock said "Signing a five, 10, or 20 year lease is a huge leap for some people."
Storefront is often referred to as the "Airbnb of retail space" — a comparison Mr. Pollock fully embraces.
"I think Airbnb is an amazing business, bringing a new degree of efficiency to residential," Mr. Pollock said. "We aspire to do those things as well, only we're working with business."
Unlike Airbnb, however, Storefront doesn't have to contend with policy wars with the City of New York over tenant agreement violations.
For more on 'Storefront' from a commercial real estate perspective, read more at the Commercial Observer.