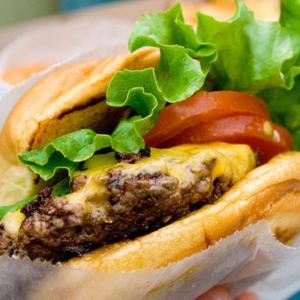 Next week, you'll find us staked out in Madison Square Park.
In honor of the NYC staple's 10th anniversary, Shake Shack is collaborating with world-renowned chefs to create the some pretty posh hamburgers for $8.50 a pop.
From June 9 to June 13, a new specialty burger will be on sale exclusively at the original Madison Square Garden kiosk.
The collaborators, with the likes of Momofoku's David Chang and Travel Channel's Andrew Zimmern, are sure to draw insane lines. One of the creations even boasts shaved black truffle. Yes, please.
We begged Danny Meyer, the restaurateur who cooked up Shake Shack, to tell us which burger he was most looking forward to, but he wouldn't budge.
"Every one of these burgers is created by a favorite chef," Mr. Meyer told The Observer. "I'll admit it — I intend to eat at least one a day!"
The burger schedule is as follows:
Monday (6/9):
Daniel Boulud – The Piggie Shack
Shack beef-blend topped with DBGB's BBQ pulled pork, jalepeño mayo, Boston lettuce and mustard-vinegar slaw.
Tuesday (6/10):
David Chang – Momofuku Shrimp Stack
Shack beef-blend cheeseburger topped with smoked and griddled shrimp patty, Momofuku Hozon Sauce, Bibb lettuce, pickled onion and salted cucumber.
Wednesday (6/11):
Andrew Zimmern – AZ Cabrito Butter Burger
Goat burger with herb butter topped with roasted tomato, charred onion and sweet pickle.
Thursday (6/12):
Daniel Humm – The Humm Burger
Shack beef-blend gruyere cheeseburger topped with all-natural applewood smoked bacon, celery relish, Bibb lettuce, truffle mayo and shaved fresh black truffle.
Friday (6/13):
April Bloomfield – The Breslin Burger
Breslin beef-blend burger topped with all-natural applewood smoked bacon and Tickler English cheddar cheese sauce.
And what pairs perfectly with these masterpieces? A little charitable donation.
One dollar from each burger will go to the Madison Square Park Conservancy. On Thursday, June 12, all proceeds from the "pay what you'd like" Shack-cago Dogs cart will go to the park, as well.
Cronut creator Dominique Ansel will be on hand Thursday, too, with a free cake (the lines are growing as we speak).
And we thought our summer diets might actually last.