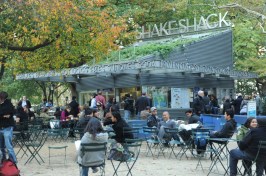 Danny Meyer is really shaking things up this summer.
Just last week the restaurateur announced he would be closing down and relocating the iconic Union Square Cafe, and now he's talking about making changes to another beloved Manhattan staple. Shake Shack's Madison Square Park location is set to close for five months for renovations.
Most likely with the intention to avoid rebellion, Shake Shack representatives estimate their flagship will take its hiatus in the winter months, when people are less likely to stand in line for over three hours to get a burger.
The Shack will expand by four feet, get an upgraded kitchen and an updated basement to increase storage space. The construction plan is still in the preliminary stages, but has already been approved by the city's Design Commission and Parks Department.
But there's no need to shake your burger habit; just plan on visiting one of Shake Shack's nine other NYC locations.