Few (if any) survive the final act of a Shakespearean tragedy. And now, for the acting troupe behind Shakespeare in the Parking Lot, the intermission is over and that unfortunate climax is quickly approaching.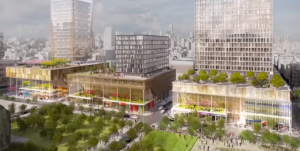 This summer marks the 20th anniversary of Shakespeare in the Parking Lot, an outdoor show New Yorkers have flocked to since 1995 to watch renditions of the best dramas and comedies to ever hit the stage. But far be it from an anniversary gift—the Essex Crossing Development has purchased the area on and around the corner of Ludlow and Broome Streets, planning to develop residential and commercial buildings along with a museum dedicated to Andy Warhol. Olympic restaurant and the Jade Fountain liquor store will be demolished in the process as well. The Warhol Museum is slated for open in 2017.
For their last summer (at this location, at least), the Drilling Company, which has officially held the reigns of Shakespeare in the Parking Lot since 2005, has chosen to perform Twelfth Night and Othello. The former runs from July 10-26 while the latter will pick up and close out the final season July 31-August 16.
By the end of the famous tragedy, Othello's chest meets a bloody dagger; a symbolic end to the acting troupe's residency in the Lower East Side. However, hope is not lost. As they mentioned to Bowery Boogie, the Drilling Company is looking to make a comeback in a new incarnation akin to other Shakespearean characters: the ghost of Hamlet's father, perhaps?