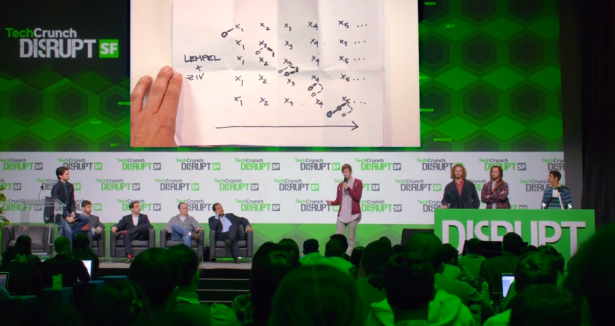 In last night's final episode of Silicon Valley, the moment of truth was finally upon us. The Pied Piper team got a second chance to present at TechCrunch Disrupt, after their first chance was spoiled by the vengeful cuckold who tackled Erlich onstage. That makes this the second episode in a row that was set entirely at TechCrunch Disrupt, which begs the question — How does the fictional Startup Battlefield hold up against the real thing?
In order to compare the two, Betabeat spoke to Sam O'Keefe, TechCrunch's Startup Battlefield Editor. Ms. O'Keefe helped put together the fictional Battlefield. We asked her where HBO was spot on and where they played things up for drama's sake.
The Same. Exact. Pitch: Inaccurate
The tech industry is rife with startups who chase hot trends, overuse buzzwords and create clones of other services in order to nab some good VC money.
In HBO's vision, each of the startups pitch themselves as some combination of Social, Local and Mobile — SoLoMo, LoMoSo, SoMoLo, etc. But according to Ms. O'Keefe, Battlefield startups are specifically coached not to sound all alike.
"With every team, we're looking to get across a few core components," Ms. O'Keefe said. "What problem are they solving, what is their solution, who's going to use it. But the teams themselves are focused on different problems, so we try to have not all of the teams sound exactly the same."
The Little Details: Accurate
To anyone outside the tech world, the little details of TechCrunch Disrupt might not have registered as right or wrong either way. But Ms. O'Keefe worked with the HBO production team to get every last embellishment right, going as far as to order event badges from the same manufacturer as TechCrunch Disrupt.
"Walking on set is surreal, it feels like walking into the conference," Ms. O'Keefe said. "For anyone in the tech community, it's like, 'Did they film that at the conference?'"
HBO nails it on the space, the stage, the logos, the fake columns — everything down to the color of the table clothes.
Job Hunting: Accurate
When all seems lost for Pied Piper, Dinesh and Gilfoyle try to jump ship, with a depressing outcome.
"That's actually one of the greatest values for early stage teams — the opportunity to meet a few thousand potential employees, customers and investors," Ms. O'Keefe said. "It's one of the major benefits to attending, for sure."
Human Heater: Slightly Accurate
On Silicon Valley, Pied Piper followed a startup perhaps more dangerous and absurd than anything we've seen in the tech world before — and we've been pitched a lot of bad startups.
But as ridiculous as it is, Human Heater, a fictional device that helps you stay warm by microwaving your skin, is actually a few layers of abstraction from a real startup that Mike Judge was told about while researched TechCrunch Disrupt.
"We had a company that launched that was wireless charging, which would charge through radio-type waves," Ms. O'Keefe said. "Now, wireless charging is seen as relatively safe, but take that three or more steps…"
And voila! You get Human Heater, the one thing we were hoping was completely based in fiction.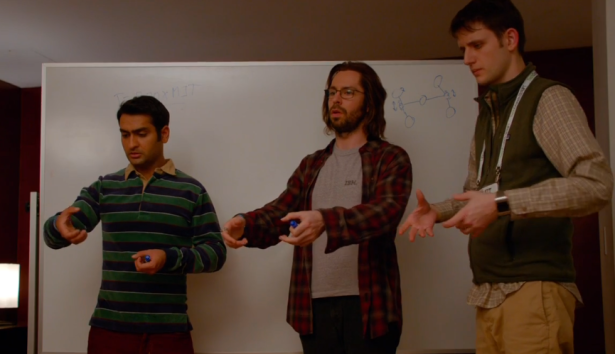 The Judges: Inaccurate
Speaking of Human Heater, the judges on the show — well, they weren't exactly feeling it, giving the startup an immediate and vicious dressing-down.
"No one is ever going to buy one of these," says the fictional judge. "Ever."
The presenter is totally thrown for a loop, which is to be expected considering that in reality, Ms. O'Keefe said the judge's reaction would never be that severe.
"We encourage judges to postulate less and to ask more questions," she said.
Too bad, 'cause we can think of a few startups who could use that sort of brute-force honesty.
Onstage Fap Sesh: Obscenely Accurate
To figure out how many men Erlich could wank at once during his ten-minute presentation, they whip out whiteboards and markers and draw diagrams. This helps Richard come to a handy new conclusion about Pied Piper that saves the company.
The next day, during the presentation, he stops juuuuust short of demonstrating how to rub one out onstage. Even if he'd done it, though, it sadly wouldn't be the first time:
[youtube https://www.youtube.com/watch?v=IKhiFebZiUM]
Throughout the season, the coding community has gotten the treatment that cops, doctors, lawyers, reporters and CSI's have received from TV writers for years — the basics are intact, and some situations are exploited beyond recognition for comic effect. But if that means watching Dinesh get hot for another man's Javascript, we're fine with that.