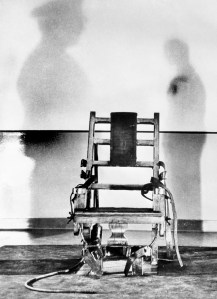 History is charming, no?
A penitentiary museum might weasel its way into the power plant next to Sing Sing Correctional Facility, the AP reported.
The plant historically supplied the electricity used to execute 614 inmates at Sing Sing, including Julius and Ethel Rosenberg in 1953.
Apart from an electric chair room, known as the death house, exhibits would incorporate mock cells and a metal head cage used for prisoner transport. Plans to display inmates' makeshift weapons, such as axes made in metal shop and plastic fork shivs, are also in the works. So please keep your hands to yourself for the duration of your visit.
"Sing Sing is a brand name," John Wunderlich, president of the Ossing Historical Society told the AP. And what can sell, must. Supporters of the Sing Sing museum expect 250,000 visitors per year.
Several members of Murder Incorporated, a contract Mafia killing squad, perished at Sing Sing. And the facility's guest appearances in 1930s movies such as "The Big House" and "Angels With Dirty Faces" also brought spotlights.
This should bring in tourists and pump the economy, Assemblywoman Sandra Galef explained.
"It's full of history. Electrocutions, riots, escape attempts," a correction officer at the prison since 1971 said. "And so much has changed over the years. Inmates can have cable TV in their cells now."
Sing Sing itself still operates as a penitentiary, separated from the power plant by a wall lined with guard towers. It holds over 2,000 prisoners today.
At least the partition should block their view of visitors lining up to pay admission.