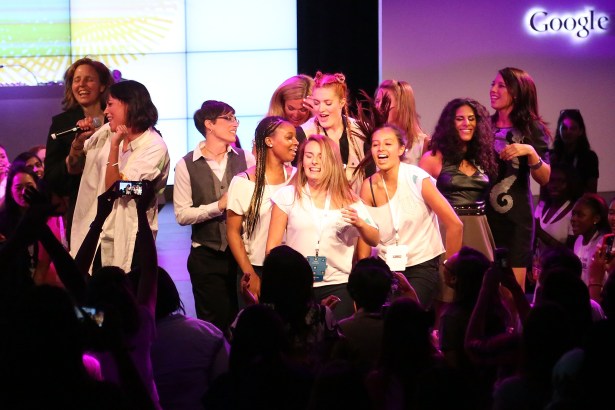 Yesterday, Google packed 150 girls, their chaperones and a slew of celebrities into the Skylight Modern for their inaugural Made w/ Code event. The young ladies enjoyed a light-up dance show, a make-your-own bracelet station, free candy and popcorn, a three-song Icona Pop performance, and talks from three badass female coders.
The vibe vacillated from slumber party to coding camp to TED talk to pop concert. It was awesome.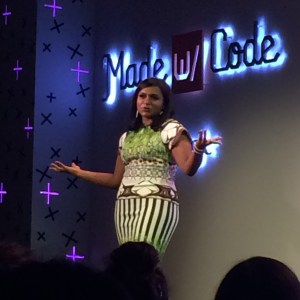 Made w/ Code began with an intro from Google[x] VP Megan Smith, and a video explaining how code works to build so many of the things we use and rely on — "when you learn to code," the video's voiceover said, "you can assemble anything that you think is missing."
In Ms. Smith's intro, she not only announced Google's whopping $50 million investment into their Made w/ Code program to get girls interested in computer science, but also talked about the importance of encouraging girls to code.
"You don't have to be technical to tell your girl she'll be good at coding," she said. "You just have to tell her she'll be good at it. Because she will."
Ms. Smith then introduced the MC for the evening, Mindy Kaling, who got big laughs for her characteristic self-deprecating humor.
"In Silicon Valley, I would be the oldest and poorest person in the room," she said. She also pitched a few app ideas, one of which was called, "What's His Deal?"
"It's an app that takes a picture of a guy and tells you what his deal is," she said. "Married? Single? Weirdo? What's his car like? … The only thing standing between me and my multimillion dollar app is that I don't know how to code."
She pointed out the importance of blazing your own trail, no matter whether you're into coding or comedy.
"It may surprise you, but I found that Hollywood wasn't begging for a sitcom about a chubby Indian gynecologist who's unlucky in love but burns through hot dudes every week," she said. "Well, bad news, Hollywood, that's what you got. And it's even harder for you. At least there were a handful of cool women who blazed the trail for me. You have even fewer, which is all the more reason this is so important."
Ms. Kaling introduced Chelsea Clinton as "vice chair of the Clinton Foundation, her mother's name escapes me, and her dad is a famous saxophonist."
Ms. Clinton shared some jarring statistics. When she received her first computer in the mid-'80s, she said, 37 percent of computer science graduates were women. Now, that number's dwindled to less than 16 percent. She was frank in explaining what this means for women, girls and the world: "We're losing ground in participating in imagining the future and building the future," she said.
Then, three female coders got up to speak. It's a testament to their great stories that they were among the most interesting speakers of the night. First came Danielle Feinberg, Director of Photography for Lighting at Pixar.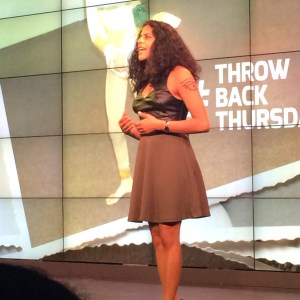 Ms. Feinberg knew she was good with computers in grade school, when she stunned the boys in class by building a working lawnmower for her school science fair. She ended up studying computer science at Harvard. In one class, she and the other students watched some goofy animated shorts by a startup called Pixar that no one had ever heard of. Ms. Feinberg was fascinated with the way code was used to create entire worlds. She started working with Pixar after college and has been there ever since.
She even won an Oscar for her work on Pixar's Brave — but, as she pointed out, it was the ninth movie she worked on and Pixar's first-ever feature to have a female protagonist. She encouraged attendees to "be brave enough to create the world that you want to live in."
Next, Miral Kotb talked about her invention, iLuminate. She loved dancing and coding her entire life, and decided to join the two by creating wearable lights that are controlled with a tablet. The audience watched two performances from dancers using iLuminate technology — one to Lady Gaga's "Applause," and another to John Legend's "All of Me." This reporter may or may not have shed a tear.
http://instagram.com/p/peRiy9IM8n/
Ms. Kotb has worked with the Black Eyed Peas and Chris Brown, she said. Then, she went off-script and told the girls that even Chris Brown respects her because of her ability to code. If you just look cute, she continued, nobody's going to respect you. But if you learn how to do something, they will.
This was the sole head-scratching moment of the presentation. We can only hope that later, the girls' chaperones explained to them that anyone, man or woman, who claims that people need to earn their respect through intellectual feats is an unmitigated asshole. Instead, let's all respect each other no matter what.
Also, in the future, maybe noted domestic abuser Chris Brown shouldn't be mentioned at a conference for teen girl empowerment. The pubescent years are confusing enough already vis-à-vis appropriate dating behavior.
Things kept rolling along as Erica Kochi, a cofounder of UNICEF Innovation, took the stage. Ms. Kochi has traveled the world since she was born, and was always struck by the income inequality she saw around the globe. One thing she noted in recent years, though, was that even the very poor sometimes have mobile phones. She decided to exploit mobile phones in third-world countries as a way to register births. The data UNICEF collects through this initiative can be used to keep kids in school, she said, and gather information about what life is like in third-world countries.
Then, Swedish lady duo Icona Pop performed and everyone freaked out. After the performance was over, the girls in attendance — who came from NYC organizations like Girls Who Code, Girl Scouts of America, Girls Inc. and Black Girls Code — enjoyed code-based games in the basement and on the first floor. They could code their own bracelet and watch as it was 3D-printed. They could code their own virtual dresses and see what they'd look like if they wore them. And they got as many little bags of candy and popcorn as they wanted.
The $50 million Made w/ Code cash injection will grow the program and also benefit Made w/ Code's partners, which include the organizations present at yesterday's event.