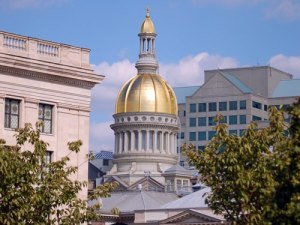 TRENTON – Sponsors of open space legislation joined NJ Keep It Green and other environmental leaders today to release the results of a new survey they say finds a sizable majority of New Jersey voters support dedicating a portion of existing corporate business tax (CBT) revenues to fund open space, farmland and historic preservation programs.
Sponsored by Senator Bob Smith (D-17), Senator Christopher "Kip" Bateman (R-16), and Assemblyman John McKeon (D-27), SCR84/ACR130 proposes that 4% of existing corporate business tax revenues already dedicated to environmental programs be reallocated to ensure continued funding to the depleted Green Acres, Blue Acres, farmland and historic preservation programs, as well as programs to improve water quality and clean-up polluted sites. In FY2020, the dedication of existing CBT revenues would increase to 6%.
Smith, Bateman and their colleagues said the survey found that 76% of voters support the proposal when read the actual proposed ballot language. Support for the Corporate Business Tax (CBT) dedication cuts across demographic and political differences, with 85% of Democrats, 63% of Republicans, and 74% of Independent and other voters in support. The telephone survey of 600 likely voters took place June 17-19 and was carried out by the bipartisan polling team of FM3 and Public Opinion Strategies.
"The results of this survey make clear that New Jersey voters of all stripes understand the critical importance of protecting clean and plentiful drinking water, providing parks that improve quality of life, and preserving farms and historic treasures," said Tom Gilbert, chairman of NJ Keep It Green. "The voters should be given the opportunity to decide on continuing New Jersey's tradition of investing in parks and preservation."
The survey found that 69% of New Jersey voters feel that the proposal to ensure continued funding for open space, farmland and historic preservation, as well as flood-plain and watershed protection and clean-ups of polluted sites is an extremely or very high priority. Furthermore, 78% of voters think the Legislature should put the measure on the ballot to let the voters decide, while only 14% think they should not.
"These results affirm that this is the right approach to funding these efforts and we should put it on the ballot so that voters can have their say on this," said Smith. "This is a very modest proposal that will not impact the state budget for the next five years, and will not increase taxes, fees or debt. Our children and grandchildren will thank us for preserving New Jersey's land, water and history for generations to come."
"The environment should never be a partisan issue," said Bateman. "It's time to move this bill and fund preservation. New Jersey needs funding to assist people that suffer from repeated flooding and also to protect our drinking water supplies. This approach to preservation is a fiscally conservative and responsible approach to protecting our water and environment."
New Jersey voters have repeatedly demonstrated support for open space, farmland and historic preservation funding, passing 13 out of 13 ballot measures since 1961. The NJ League of Municipalities, The NJ State Federation of Women's Clubs, the NJ Highlands Council, and 18 counties have passed resolutions supporting sustainable funding for preservation and stewardship.
The Legislature must act before recessing for the summer in order to refer the measure to the November ballot. With voting sessions scheduled on June 26th and June 30th, there is still time for votes to occur in both chambers.