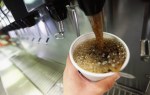 New Yorkers are officially free to guzzle down as much soda as their hearts desire.
The state's highest court decided against reinstating the infamous soda ban, one of the last pieces of legislation during the Bloomberg era, the Associated Press reports.
The Court of Appeals reached its decision on Thursday, stating that the New York City Health Department overstepped its boundaries by trying to limit the size of sugary beverages sold in the city's restaurants and theaters to 16 ounces.
"The Board of Health engaged in law-making beyond its regulatory authority," the 20-page ruling reads. "It is clear that the Board of Health wrote the Portion Cap Rule without benefit of legislative guidance."
Lower courts had a similar ruling but Mr. Bloomberg appealed its decision, hoping the higher court would overturn it. Former Health Commissioner Dr. Tom Farley traveled to Albany to attend the appeal hearing earlier this month, and defended the Health Department's authority to CBS 880′s Rich Lamb.
"I think it's a terrible decision. The Board of Health was doing exactly what it should be doing, protecting the health of New Yorkers," he said. "They've done it in the past in prohibiting trans fat in restaurants and banning lead in paint, so this decision will hurt the health of New Yorkers."
Current Health Commissioner Mary Bassett said in a statement, "Today's ruling does not change the fact that sugary drink consumption is a key driver of the obesity epidemic and we will continue to look for ways to stem the twin epidemics of obesity and type 2 diabetes by seeking to limit the pernicious effects of aggressive and predatory marketing of sugary drinks and unhealthy foods."