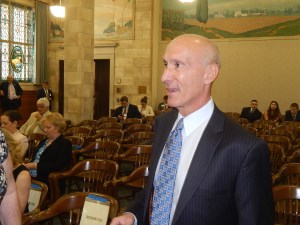 TRENTON – Following the re-upping of Stuart Rabner for the state Supreme Court, the Senate Judiciary Committee this evening turned its attention to the candidacy of Judge Lee Solomon.
Solomon is Gov. Chris Christie's second nominee, the second of the day following Rabner.
A Republican from Haddonfield, the former councilman, freeholder and state legislature wants seven years on the high court as an associate justice.
"I believe being fair and being humble are the most important characteristics," said Solomon, whose appearance today as a nominee came packaged with Rabner, a Democrat; in a deal Christie struck with Senate President Steve Sweeney (D-3).