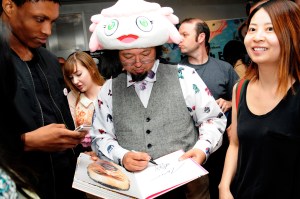 Takashi Murakami, the Japanese mega artist, loves the new Godzilla movie, but Jellyfish Eyes, his first feature film, which is touring with support from Mr. Murakami's L.A. gallery Blum & Poe, is more akin to Pokémon: we get a kid hero who saves the day with his cooing animated friend, a cutesy, pink and white imp called Kurage-bo (think Pikachu with tentacles). After a sold-out screening of the film at Lincoln Center on Sunday, the bespectacled director explained through a translator that he had been thinking of marginalized creatures, and originally conceived of the boy's animal as similar to an emaciated old man, but eventually settled on a more cloyingly childlike companion.
The squealing, bubbly creature in its final incarnation certainly fits more neatly into Mr. Murakami's body of work: an electric Kool-Aid sugar high featuring a harem of sexed-up female sculptures resembling Sailor Moon, cartoony smiling flowers and other imagery sourced from Japanese pop culture. Cinematically, this translates to a less imaginative and visually ravishing version of My Neighbor Totoro or Spirited Away, animated films by Hayao Miyazaki with comparable plots involving children and adorable creatures.
Clichés appeared onscreen like dancers on a stage flitting from the wings. This is the kind of movie in which the bad guys wear black, teachers are oblivious dopes, dead fathers appear in moments of crisis, Mufasa style, to tell their despairing sons to "stay strong," grieving people fall to their knees screaming "WHY???" and, when a character dies (or at least momentarily appears to have died), there's a glowing montage of happy moments with that character from earlier in the film.
Following the screening, and its post-credit scene teasing a sequel, Mr. Murakami took questions, wearing old timey tab suspenders, a whimsical white shirt printed with creatures from his film and, most conspicuously, a pink Kurage-bo shaped hat that looked like a giant fluffy pink udder with eyes.
According to the director, who is one of the world's richest artists alongside Damien Hirst and Jeff Koons, making Jellyfish Eyes cost $7 million. The film took about six months to shoot, and another two years of post-production. While absorbing questions, Mr. Murakami, 52, shut his eyes tightly behind his glasses, a habit that might have made him appear grave, if it weren't for the smiling cotton candy poof on his head.
"Are you thinking of making a game [of the movie]?" a young man asked.
"No?" answered Mr. Murakami. "Because I have no skills at games. I don't enjoy them. My generation is too old. I played Mario, but I was not a good player; that's why I gave up."
Another man asked what it was like to work on Kanye West's Graduation album, back in 2007. "That was a very strange experience," said Mr. Murakami, who described his first encounter with Yeezus. "He came to my studio because he wanted to see my big breast sculpture." (This could refer, dear reader, to many different works by the artist, who even managed to incorporate one pneumatic character from his sculptural practice, the scantily-clad waitress Miss KO2, into the movie as one child's CGI companion)
After the Q&A wrapped up, we jogged alongside Mr. Murakami as he was escorted to a second lecture across the street, and asked him if making films made him feel less like a zombie (his word) than making things for the art world does.
"This is kind of a different experience," he said.
With that he was whisked into the theater, and we were left standing in front of a table piled high with Jellyfish swag. Why no hats, we asked the young man stationed behind the spread. Surely the furry udder, Murakami's preferred fashion statement these days, would be a hot item?
"There are only two in existence," he replied reverently. "There was only one, and then an order came from very high up."
Who wanted a hat? Apparently, hip-hop sensation Pharrell Williams, known for his outré headgear, has found a new fall look.