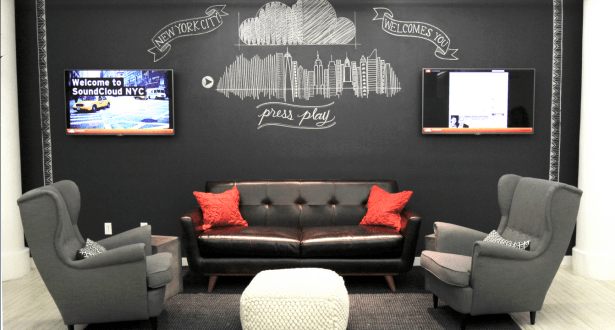 Another international tech giant has put down roots in Silicon Alley. This morning, Berlin-based audio platform SoundCloud opened their New York City offices — their largest office in the United States.
In the new 5th Avenue location, engineers and audio technicians will work alongside marketing and sales staff. New York City has the kind of talent pool that allows a company like sound cloud to hire both technical staff and creative professionals, which is vital for a tech company that offers a platform for artists.
"It's been clear to us for a while that our biggest home in the U.S. needed to be at the center of the creative industries: music, publishing, arts and audio," SoundCloud CEO Alexander Ljung told Betabeat.
But New York's reputation as a buzzing hive for creative professionals isn't the only big draw for SoundCloud. NYC is also seated between the company headquarters in Berlin and their offices in Silicon Valley, as well as between music industry hubs in Los Angeles and London.
"Geographically for SoundCloud, New York makes a lot of sense," Mr. Ljung said. "It's practical for navigating communications across timezones, and since we are a true global company, this is crucial."
Most businesses claim new partnerships and an expansion of enterprise services as the primary reasons to open a NYC office — but an international relay point and a place to nap during a long layover is a good of a reason as any.
Regardless, SoundCloud seems seriously dedicated to the artistic integrity of the new space. The office is loaded with heavy steel architecture and chalkboards meant to evoke Berlin-style industrialism and graffiti. In order to give the space a New York aesthetic, they brought in NYC chalk artist Mari Johnson and photographer Kait Ebringer to do original work for the office — they plan to continue to rotate in fresh art installations in the future.
The SoundCloud team in New York has gone from two employees to 20 in the past year, with plans on doubling that by the end of 2014. In the mean time, SoundCloud is asking potential engineering, marketing and sales talent to keep an eye out on their jobs board.