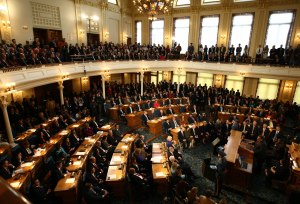 TRENTON – The Assembly Democratic caucus was supposed to be the public sector labor union-loving progressive wild-west lower house.
They were the sticking points during public pen ben overhaul season three years ago, with some of them sticking it hardest of all to Senate President Steve Sweeney (D-3).
So when Sweeney yesterday declared his dedication to making the full pension payments and favored a millionaires' tax to help pay for it, it would stand to reason that Assembly Speaker Vinny Prieto (D-32) – himself a public sector worker – was thrilled.
Right?
Wrong.
Prieto was – in the words of a source close to the speaker – "pissed."
And it wasn't the first time.
It was the second time.
The first time was interest arbitration. Sweeney and the governor tag-teamed on the item – due up for a Senate vote this afternoon – without the inclusion of the Secaucus speaker.
Sworn into office last year alongside the four-term senate president, Prieto muscled his way on that because, in the words of one caucus member, "it's about respect."
Now Sweeney, according to Statehouse sources, went out there yesterday with his pro-public sector union plan, on his own, with nary a heads-up to Prieto, who feels like the senate prez just recorded strike two in their uneasy north-south relationship.
Sweeney caught him off guard with the announcement, sources told PolitickerNJ. He felt there was not enough time to digest Sweeney's proposal.
"Here's Vinny coming off interest arbitration with the argument that he wasn't part of this discussion back in February, he had to flex his muscles, he got a couple of give-backs but more than that ultimately it was about dignity," said a source. "They wanted the caucus to stand up for them, and he did."
But now again he stands on the sideline while Sweeney – fighting hard his past anti-public sector union image – dives into the posture of CWA protector.
Prieto is set to disappear behind closed doors with Sweeney at some point today so the two men can mop up the mess and attempt to secure some sense of party unity.
Although one source said it was simply a case of miscommunication, with Sweeney irritated at what he was hearing as budget solutions coming out of the Assembly caucus and, feeling back-stabbed, jumped out pro-actively with his own agenda to shore up his damaged cred with public sector unions, another said Sweeney went when we did simply because he wanted his brand on the pro-public sector union alternative to Christie.
It repairs him with public employees; now he's the only person out there swinging on their behalf, not sharing the podium with Prieto.
If the court rules against Chris Christie later this month, Sweeney will look like a hero.
Lower house Democrats in with Prieto are seething ahead of their 2015 elections with the notion that they might be caught – irony of ironies – looking soft in their support for public sector unions alongside the crusading Sweeney.
Prieto and Sweeney will go nose-to-nose this afternoon.
But ultimately it's not Prieto v. Sweeney.
Sweeney feels the pressure of [Jersey City Mayor Steve] Fulop's silence, a source told PolitickerNJ.
Fulop and Sweeney are playing a statewide game of chess to succeed Christie as governor, with former Germany Ambassador Philip Murphy looking to seize advantage of the two elected officials' collision.
Looking to protect himself in a future gubernatorial Democratic Primary encounter, Sweeney at the very least wants to be able to tell the public sector labor leaders, "I tried."