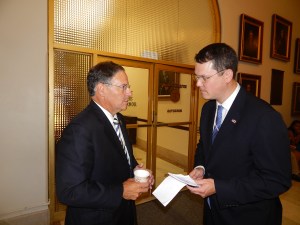 TRENTON -It's the little late stuff that kills you.
The budget moved off the floor of the senate already, but as the senate cruised through the bill list, sources say legislators worked frantically on the assembly side to summon support for a late and controversial entry to the lists.
A source close to negotiating told PolitickerNJ that the bill, A-3459, sponsored by state Sen. Jim Beach (D-6) in the Senate and Assemblyman Troy Singleton (D-7) in the Assembly, as of right now requires ten Republican votes for passage.
Too many Democrats were shying away from the bill as leadership tried to summon those votes to make the bill happen.
"They got problems," a source groaned.
The Camden-centric bill would extend the application period for certain urban hope projects, permits reconstructed facilities as part of projects; and provides additional retirement benefits for certain PERS (Public Employees Retirement System) and TPAF (Teachers Pension and Annuity Fund) members in urban hope districts, and makes projects eligible for tax credits.
The bill is said to be top priority with leadership but not a linchpin to the Democrats' deal with Gov. Chris Christie on the FY2015 budget.
It already passed on the senate side.
But as of a few moments ago when the assembly broke, an insufficient number of Republican members of the lower house were willing to support the bill.
Speaker Vincent Prieto (D-32) just reconvened the session.