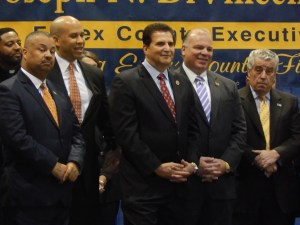 TRENTON – When Essex County Executive Joe DiVincenzo publicly backed the re-election of Gov. Chris Christie over the ear-chewing of fellow Democrats who begged him to stay neutral, Joe D's allies had a simple retort.
Come budget time, Essex would enjoy some generous payback from the front office as a consequence of DiVincenzo's embrace of the GOP incumbent.
Now that time has arrived, with New Jersey in the middle of a budget crisis, South Jersey and Hudson County angling hard to prove dominance as a consequence of legislative leadership, and Newark in a $93 million budget hole.
Newark's Mayor-elect Ras Baraka, moreover, personally defeated DiVincenzo's candidate and the statewide Democratic Party machine, thereby complicating and dividing the political outlook for Essex, which in the Christie era has depended on the executive's close ties to the governor.
Essex also had the speaker, Sheila Oliver of East Orange, squeezed out of power last year by the South Jersey/Hudson alliance.
In this fiscal environment, what might have been front row seats on this governor's affections has turned into "we have to keep what we have, we're not looking for anything new," according to a source close to county government.
Now, as the mayor-elect undertakes his own communications with Christie, the splintered Essex delegation wants to meet with the governor prior to Thursday to make its pitch, particularly for the county's biggest city, while simultaneously alert to the political challenges.
Those challenges start with the divide between DiVincenzo and those forces who backed Baraka in last month's mayor's race, state Sen. Ronald L. Rice (D-28) among them.
The Baraka backers in the legislature aren't convinced DiVincenzo can leverage much for Newark.
"Joe backed him last year," acknowledged an insider. "But is the guy [Christie] now capable of dumping Joe like a hot potato? Absolutely."
The veteran Rice doesn't necessarily want DiVincenzo's help.
"Joe always says 'Put Essex First,' but he don't mean Newark," said Rice. "Newark is just a playground for Joe. I'm going to try to meet with the governor, but reality is Newark needs help. The city's troubles include a $63 million budget deficit with the school budget, which is no fault of the incoming mayor and council.
"I don't see that kind of people-first mindset," the senator added. "It's not about people, it's about selectiveness."
A source close to the budget said elements of the Economic Opportunity Act championed by leadership will decidedly benefit Newark, however.
"Politics should not have anything to do with the needs of the citizens of the city," said Assemblyman Ralph Caputo (D-28). "We can't play games here. Newark is in bad shape and needs a lot of help."