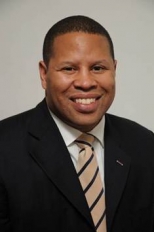 It so often comes down to Councilman-elect Luis Quintana, the city's acting mayor, amid rumors this afternoon that Mildred Crump may not be a done deal as Newark Council president.
But this time someone else stands at the fulcrum of power.
Two sources told PolitickerNJ that the name of South Ward Councilman-elect John Sharpe James surfaced late last week as a possible alternative to Crump and a specific enticement to Quintana.
Bounced around this year's mayoral contest like a human football before successfully opting for re-election as an unaffiliated candidate rather than a place on the ticket of Mayor-elect Ras Baraka, Quintana is close to the James family.
A source said Anibal Ramos, Carlos Gonzalez, Augie Amador and James could align behind James, son of former Mayor Sharpe James and a county employee, to block Crump – with Quintana left to provide the bloc with a majority.
Said to have not ruled out the option, Quintana was mum today when he talked to PolitickerNJ.
"I don't know who wants to be council president," said the acting mayor. "Mildred talked to me, but no one else has."
Quintana took himself out of the mix. "No," he said when asked if he intended to pursue the job. "I've been council president and I've been mayor."
Crump would have to depend on a bloc that would be most likely to include herself, Eddie Osborne, Pat Council, Gayle Chaneyfield-Jenkins, and either James or Quintana depending on late talks.
A third source close to Newark politics said if the younger James were to challenge and prevail over Crump – who initially appeared to have the support of the allies of Mayor-elect Baraka – the South Ward councilman-elect would be in position to carve out a role for himself as a 2018 alternative to Baraka.
But a deal for James appears to have fallen through as of today, a source told PolitickerNJ, as the south ward councilman himself was reluctant to cross the Baraka-backed Crump.