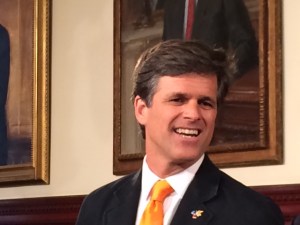 TRENTON – It's the face that's easy to place, in New Jersey or anywhere else in America.
On Thursday afternoon, Tim Shriver, the Chairman of the Special Olympics, was in the State House in Trenton, present on the occasion of the signature of a bill by Governor Chris Christie requiring New Jersey schools to accommodate disabled students in sports.
Shriver is a direct descendant of the most powerful political family in American history, the families Roosevelt, Bush and Clinton aside. He is the son of the late Eunice Kennedy Shriver, the founder of the Special Olympics. He is the nephew of the martyred 35th President of the United States, John Fitzgerald Kennedy, and the slain U.S. Senator Robert Fitzgerald Kennedy, who many say was on his way to the White House in 1968 to take his brother's place.
Another Kennedy scion has found his way to New Jersey in recent years. Patrick J. Kennedy, the son of the late U.S. Senator Ted Kennedy (D-Mass.), served in Congress from 1995 to 2011. Troubled by problems with alcohol, drugs and bipolar disorder, Patrick Kennedy eventually decided not to run for re-election for his Rhode Island seat. Instead, he married Jersey girl Amy Petitgout, a junior-high-school history teacher from Absecon in 2011 and began life anew, having a son and daughter together.
Happily ensconced now in Atlantic County, Patrick Kennedy has ruled out runs for future office. But when PolitickerNJ.com asked Shriver if Kennedy, his first cousin, would ever stage a political Kennedy comeback from the Jersey Shore, Shriver offered a deeper family perspective.
"I don't think it's anywhere near his mind. He's got a young family and he loves what he's doing. He moved here because his wife lives and works here," Shriver told PolitickerNJ.com. "I think politics is the furthest thing from his mind."
For any Kennedy family member, it seems that politics is always at the forefront. After all, it was Ted Kennedy who famously said at the 1980 Democratic National Convention that "the dream shall never die."
But Shriver, standing underneath the State Capitol's Rotunda, referred to that reverie is transmogrified terms.
"Patrick had a great career in Congress, and he made a very conscious and deliberate choice to leave it," Shriver said. "He's really happy. He's the happiest I've ever seen him. He loves raising children. I would be stunned if he did anything differently that what he's doing now.
"Service to the country, and service to causes, comes in many forms," added Shriver before he turned back to Thursday's event celebrating another Special Olympics success. "We were raised to serve, but we were not raised to serve just in one way. Politics was obviously part of our family culture, but it was never the only thing. I love what I do. I feel that it matters. I feel a tremendous sense of fulfillment and satisfaction from doing it. It makes people feel they're involved in what really matters most in life, which is giving yourself completely to something that gives you your best self back. And that's what I'm doing."