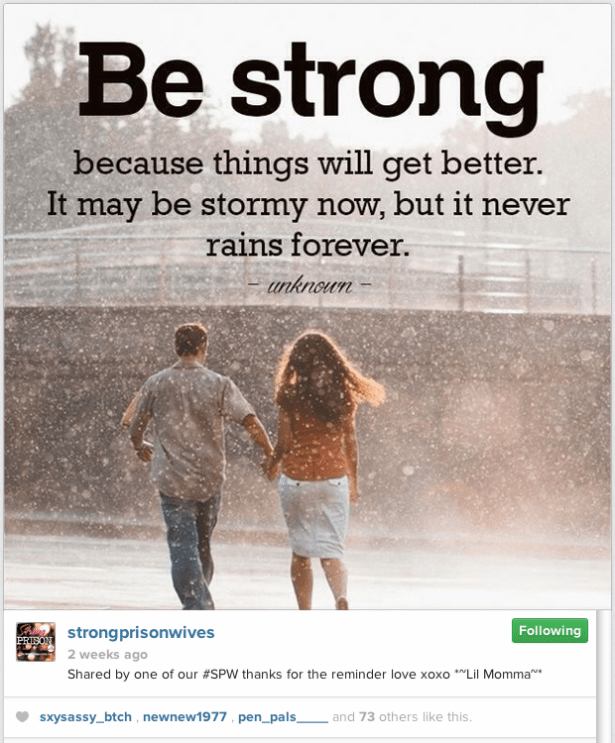 "Hope you ladies have a great day! We are all one day closer!"
This is the caption under an Instagram post from the Strong Prison Wives account, which has almost 2,000 tight-knit followers with one thing in common: they're dating or married to someone who's in jail.
There has been no shortage of stories written about the phenomenon of women who date and marry convicts, sometimes even dismissing the women as "chronically lonely, love-starved or in need of excitement" from a bad-boy criminal. Whatever the case may be, these women exist — and they often need support when their other loved ones turn on them or don't understand why they'd stand by a man who's behind bars.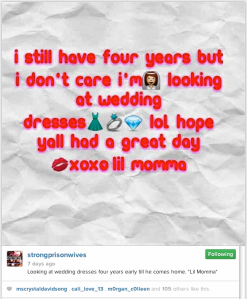 Like so many other people with niche lifestyles, the women congregate online. They gather at StrongPrisonWives.com, as well as Strong Prison Wives' Instagram and Facebook pages to support each other and share their experiences with having a loved one who's incarcerated. They chat, ask for advice and share prison-wife memes. Some of their comments can seem mundane, like when they ask more knowledgeable members how much jewelry they're allowed to wear for a visit at a particular facitility or how to send a magazine subscription to an inmate. Other times, questions spark debate — like when one woman anonymously asked for advice about whether to stand by her boyfriend who's being jailed for raping a 15-year-old (some members, bizarrely, support the boyfriend).
Usually, the women console each other, refer to their network as a "sisterhood," bemoan the stigma that comes from dating an inmate, and post inspirational quotes and photos of themselves with their inmates. The site even sells T-shirts and sweatshirts declaring their loyalty: "show everyone in the visit hall or on the street, who has your heart," reads the description of the His Ride-Or-Die customizable shirt.
Betabeat learned of the tight-knit network when a friend found it after hashtagging one of her photos #SPW — in her case, it stood for "spring party weekend" — on Instagram. She clicked the hashtag and found an endless streams of photos and inspirational quotes from the Strong Prison Wives network. We were fascinated, so we set up a phone interview with SPW's founder, who goes by the name Ro online.
SPW, which is also known as Strong Prison Wives and Families, started with a simple blog format in 2012, Ro told us. Ro worked with an experienced blogger, whose husband was incarcerated, on the site's first iteration. Then, when her partner's husband was released from prison early, Ro was on her own. She spent nine months raising money to start a social network, she said, and relaunched this past January with a bigger, better site after having saved $600. The site costs about $100 per month to run.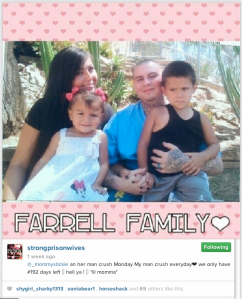 StrongPrisonWives.com now has 700 members, while SPW's social media reach is even larger, with 5,000 followers on Facebook and 2,000 on Instagram.
Ro has a staff of about 15 volunteer moderators who share images, run the social media pages, and put out any fires in the forum or comments sections. They also use Photoshop, Picasa and Instaquote to make the inspirational quotes and art that they post on social media all day.
It's important to maintain the independent site in addition to the more trafficked social media profiles, Ro said, because Instagram and Facebook posts can sometimes attract trolls.
"There's a lot of negativity and hate and negative comments" on social media, she said. "It's a controversial topic and there's stigma attached. I wanted to keep my group positive, motivating, supportive and helpful. One of my missions with the whole thing is to remove that stigma."
One thing the women usually avoid is the topic of why their husbands or boyfriends are being locked up in the first place.
"That's more of a private thing, especially if he hasn't been sentenced yet," she said. "You don't want to talk about it that publicly."
People have visited SPW's Facebook and Instagram pages and told the women there that they "shouldn't reproduce because they're all lowlives," Ro recalled. "There would be hate parades all over the page."
She also used to make YouTube videos for women in her situation, but took them down because there was no easy way to restrict access only to members of SPW. And we all know how negative and insane YouTube commenters can be. Still, she acknowledges that social networking has helped her find new members more than anything.
Ro's life as a prison girlfriend began almost six years ago, she said. She knew her boyfriend in high school, but they didn't start dating until he was a few years into his sentence. He's currently serving seven life sentences back-to-back for a string of robberies. He and Ro believe the lengthy sentence isn't justified because his crimes were not violent. They're hoping his sentence will be commuted, or the laws surrounding minimum mandatory sentences will change.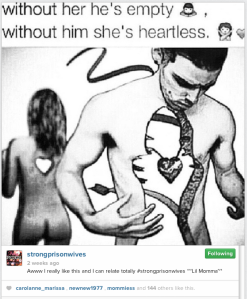 She has to drive six hours to a federal prison in Pennsylvania from her home in New Jersey when she wants to see Adam. Many have asked why she sticks by her boyfriend's side when they haven't and may never have a traditional life together.
"My ultimate response is because I love him," she said. "Unless you're in these shoes and faced with the situation, you have no right to ask me that because you weren't faced with that decision. It's a really tough decision."
A lot of women wouldn't stand by a convict, she acknowledged, and she does not begrudge them that choice. "I fully support them, too," she said. "If that's what you need to do, there's no right or wrong answer to navigate this lifestyle."
SPW largely attracts two types of women, Ro said. "There are the new girls who are scared and lonely and don't understand it. Their life was ripped from them. Their husband was ripped away. Maybe he was paying the bills. They're scared and alone."
The other women understand the system, but feel lonely. "You get judged," Ro said. "People don't understand. Even your own family and friends. It's not that they turn against you, but they can't understand why you're doing what you're doing."
Women whose partners are in prison love SPW because they can always find words of encouragement from fellow members, Ro said.
"You can say, 'Hey, I live in North Jersey, is there anyone in my shoes? We can meet up and hang out because most of my friends have shunned me,'" she said. "Somebody's always going to be up when you're down."
The practical advice women find on SPW is also invaluable to users. If someone visiting a prisoner doesn't follow strict wardrobe guidelines, which differ from institution to institution, she could be sent away, no matter how far she's traveled. Women have driven 10 hours, Ro said, only to be turned away because of their open-toed shoes or the underwire in their bras.
"I didn't have anybody" before starting SPW, she said. "I had one girlfriend who I met at visits [to the prison]. We became friendly, we would talk. I had to figure it out on my own though. I didn't want people to have to go through that and feel so alone."