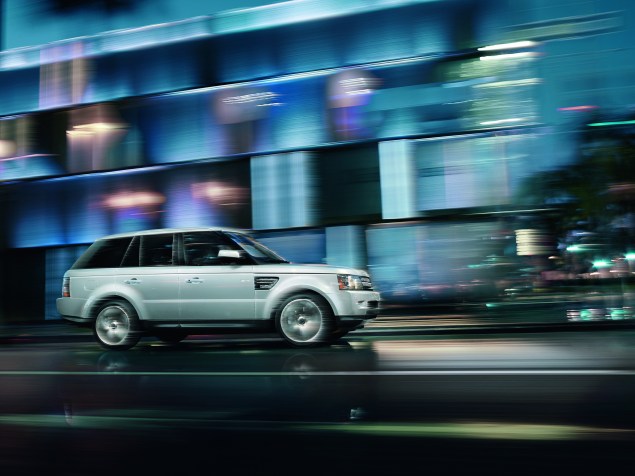 A few years back, I test-drove a four-door Ford F-150 truck in the city for my work as a motor correspondent. This particular Ford F-150 was painted a cool khaki green and adorned with lots of chrome and leather on the inside. I took this truck all over Manhattan's West Side delivering my kids to play dates. I truly felt like a rock star—this vehicle got so many thumbs up! Too chicken to parallel-park it in the city,  I had to drive out to supermarkets in the suburbs with huge parking lots to load up on groceries. Big, chunky trucks are my favorite vehicles to drive, but for city life, they just don't work. 
CADILLAC ESCALADE

The heart: It accelerates from 0 to 60 in less than six seconds. The 6.2L V-8 engine (420 horsepower and 460 lb-ft of torque) will give you 15 mpg in the city and 21 mpg on the highway. 

Safety: Features include front and rear automatic braking, which relies on radar technology and ultrasonic sensors to help the driver avoid front and rear low-speed collisions. The lane departure warning system has a safety alert seat, which pulses the left, right or both seat cushion bolsters to alert the driver of a dangerous situation. Yes, the seat actually moves! 

Price: The Cadillac Escalade comes in two- and four-wheel drive. Pricing starts at $71,695 and revs up to $92,840.

RANGE ROVER

The heart: A 5.0 V8 Range Rover Supercharged (510 hp and 461 lb-ft of torque) gets 14 mpg in the city and 19 mpg on the highway. This is one mighty beast with a gutsy engine sound that just begs you to charge ahead of everyone. 

Safety: A surround camera system with five digital cameras gives you a 360-degree view of the vehicle. It also displays upcoming speed limits. Other notable safety options include closing vehicle detection—the system will warn you when a car is passing at a high speed—and reverse traffic detection—when backing out of a spot, the system detects cars approaching from the side.

Price: Range Rover Sport prices start at $63,495 for the supercharged V6 and take a hike to upwards of $93,295 for the supercharged V8 with all the extras.

AUDI Q5

The heart: The all-wheel drive Q5 comes with five engine choices. Just for a taste: The Q5 hybrid accelerates from 0 to 60 mph in 6.8 seconds and has an estimated mpg of 24-city/ 30-highway. My favorite engine: the TDI clean diesel has an estimated mpg of 24 city/31 highway. It takes diesel, so it sips fuel, accelerates quickly and motors up mountains with ease. 

Safety: Audi Q5 has available keyless start, stop and entry. Another feature: Audi side assist helps monitor blind spot areas, as well as fast-approaching vehicles, at a range of approximately 150 feet from the rear of the car.

Price: from $37,300 to upwards of $51,900.
The alternative to the truck has to be the dreaded SUV (sports utility vehicle for those lucky enough not to know what the initials stand for). This is the car driven by Adam Sandler's cliched comedy-dad characters and by doomed Stepford wives, who would definitely have driven SUVs in a 2014 version of that movie. All I can say is,  I held out until the pressure of family life finally broke me.  When the Observer called and asked me to suggest cool SUVs for those who have to make the choice, I chose from three different places: the American Cadillac Escalade, British Range Rover Sport and German Audi Q5. If I were famous, I would be happy to be accidentally paparrazied in any of them.
I like vehicles that hold a lot (kids, dogs, surfboards, bikes) but are also at ease in the city. No apologies, I also want to look cool in my car. Mpg is crucial, but space is important too, and I want good cup holders, cubbies and storage and a nice feel to the drive. Bottom line: I want to put my foot to the pedal and get out of any traffic situation before everyone else. The 2015 Cadillac Escalade is pretty trucklike, but despite its heft, this vehicle can make a getaway. Thanks to clean lines and a smooth ride, it never jerks around. It's not as nimble as the Audi Q5, but you can still position it into city spots. The ambient lighting and wood and leather interior make you feel pampered behind the wheel. However, in the city, CUE, the Cadillac User Experience, a connectivity system with voice recognition and touch controls, isn't as easy to handle as the car. The eight-inch center screen uses touch technology and gesture recognition. However, despite my iPhone adeptness, it took me some time to learn this. There was lots of hand waving during my drive.  However, a hands-free, power-lift gate makes it easy to put your gear in the cargo area of the Escalade. You simply use your foot to swipe underneath the rear, and the lift gate opens—great for curbside shopping dashes. On the flip side, your mother-in-law may feel that the Escalade is too big for her to get into. However, chrome- accented slider steps are standard, or you can order power-retractable steps with striking light-pipe technology. 
No such shenanigans are needed for the compact Audi Q5. Despite its "small SUV" status, every surface is spare and lean. The cabin is detailed with walnut trim, aluminum accents and an optional heated/cooled cup holder to maintain the temperature of your cappuccino. Reach-through door handles were designed so that women with nails could comfortably enter the car without the risk of manicure catastrophe. The voice-recognition system on board the Audi allows the driver to program in commands such as "I need money, I need gas, I need a carrot/apple shake," and MMI will point to the closest options on the route. Rest assured, this little car can do all the dirty work that any truck can achieve. I found it to be nimble in tight spots but could speed up on demand in a green-light chain. 
Neither the Audi nor the Escalade has the OMG power oomph of the Range Rover Sport V8 Supercharged, the fastest vehicle ever created by the company. For city driving though, it is easy to hold back in the pedal; there is not the sense that it's raring to go and one false move will see you rear-ending the Fresh Direct truck in front of you. Range Rover holds the British court-appointed royal warrant. In other words, the company provides cars to the British royal family. Never mind all that: It drives like a dream. In the cabin, metal and high-grade leather finishes add the luxe factor while people with smaller bottoms will feel welcome thanks to the side bolsters on the front seats. The compact steering wheel means it feels like a bumper car to drive. Keep the music low so you don't drift off into a summer memory from Fun Land. Luckily, the sliding roof does not seem to interfere with the air conditioning while the car creeps across Central Park or Midtown. Only slightly unnerving is that this is a lot of vehicle. It can take on any amount of snow, ice or mud, plus some. But then again, if you love the look and the cache, that's reason enough to drive one.