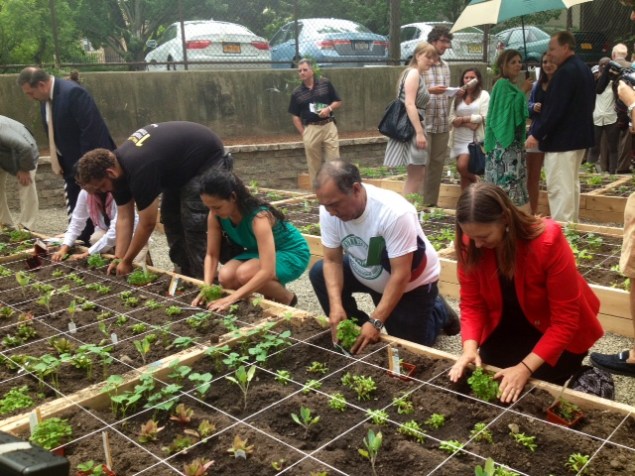 For years, when residents of a Kelly Street apartment complex in the Hunts Point section of the Bronx looked out the buildings' rear windows, they saw a dismal panorama of rubble, vermin and 15 foot-high piles of garbage.
The scene was such that city officials advised that the area be paved over; one too many things to worry about for a complex that was overleveraged, in foreclosure and quite literally falling apart.
But when the community stepped in to acquire, rehabilitate and preserve the complex, they also took on the bedraggled back lot, transforming it into a community garden filled with 13,000 square feet of fruits, vegetables and herbs.
"This used to be filled with rubble, garbage. We used to have rats as big as cats. But then we turned the focus to the backyard and look at it—it's like heaven in here," said Robert Foster, one of the many people who worked on the project, which was formally under the aegis of affordable housing non-profit the Banana Kelly Community Improvement Association. Mr. Foster was once the executive director of Banana Kelly, which got its start in the late 1970s when it liberated South Bronx apartment buildings and rehabilitated them as affordable housing whose new tenants earned them through sweat equity.
Mr. Foster said that the garden, a budding green sanctuary that promises strawberries, lettuce, tomatoes, zucchini, squash, spinach, onions, peppers, parsley and more, amounting to $43,000 worth of produce, operates on the same concept.
"The more time you put into the garden, the more good you will get out of it," he explained.
Hopefully, the garden will inspire everyone to get to know each other a little better, Mr. Foster said, himself such a master in the art of meet and greet that he is known in the neighborhood as the mayor.
"Some neighbors who live in the same building don't even know each other. With the garden, they can get together, work on the garden and talk. Neighbors who know each other protect each other," he said, adding that, "It takes people out of their houses and brings them outside. Even better, their children will see them doing something positive and it will get passed down to the next generation."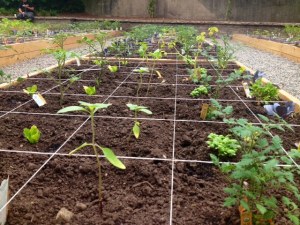 Lonnie Brice, a Kelly Street tenant, agreed that the garden is a great thing for neighborhood youth. "It teaches kids about gardening and teaches kids where food comes from. Their mothers send them to the store to get vegetables, but now they can come out here and pick their own instead."
The same has been true more broadly for Kelly Street. After 16 months, apartments in the complex have been repaired, having undergone improvements to roofs, hall stairs, kitchens, bathrooms, doors, plumbing, sidewalks, and windows. In March, the NYC Department of Housing Preservation and Development included regulatory agreements in the funding of this work, guaranteeing that these Kelly Street locations remain affordable.
"The garden will help us become better citizens of the Bronx and better citizens of the city," Carolyn Waring, who has lived in the apartment complex longer than any other tenant, said. "They took us this far and we'll go farther."