520 West 28th Street

Architect: Zaha Hadid

Project: 11-story condo building

The crown jewel of the High Line is Ms. Hadid's 40-unit condo building, a curvy, ebullient, Jetsonian wonder that marks the Iraqi-Brit's first New York City foray. Many of the apartments have three to five bedrooms, including the 6,000-plus-square-foot penthouse for $35 million.
Christie Wright
239 Tenth Avenue

Architect: Peter Marino

Project: 12-story residential building

Completion: Likely 2017

Could any real estate duo have more swagger than developer Michael Shvo and Mr. Marino, the leather-loving fashioniste? (Will these two formidable personalities still be talking to each other by the end?) No renderings so far, but a temporary installation featuring meadows and sheep was recently decommissioned to make way for environmental remediation, as the site was formerly occupied by a gas station.
Christie Wright
The Whitney Expansion

Architect: Renzo Piano

Project: 200,000 total square feet

Opening: 2015

Renzo Piano's plans for The Whitney's Expansion at the southern end of The High Line have been met with some criticism, though the building will provide a visible anchor for tourists trekking down the length of the park. The structure will include 50,000 square feet of indoor space, with one 18,000 square foot room set to become the largest column-free gallery in New York City; another 13,000 square feet of outdoor space will cater to exhibitions.
Christie Wright
508 West 24th Street

Architect: Cary Tamarkin

Project: 15-unit condo building

Completion: 2014

The development's aesthetic is a decided departure from anything glitzy and offers a throwback to midcentury architecture. "Neo-Bauhaus" would not be a far-fetched description. "It's between two twisting metal buildings," said Mr. Tamarkin, "but I wanted to create something that's as simple, as raw and as heavy as could be—like a rock—which is why we used cast concrete." Mr. Tamarkin is big on origin stories; the bathrooms feature Portuguese Azul Lagos limestone floors, Catalano ceramic sinks and Zuma soaking tubs, that type of thing. The building is set to open this year, and only two units remain, including a penthouse listed at $12.5 million.
Christie Wright
551 West 21st Street

Architect: Norman Foster

Project: 44-unit condo building

Completion: 2015

Perhaps the best combination of classic starchitect branding and contemporary trends, the super-luxury building's aesthetic will still be relatively restrained. Flood watchers can rest easy: the building was designed with Hurricane Sandy in mind. It's surrounded by a six-foot-high concrete wall that extends above the sidewalk. Prior to any storm threats, metal barriers that serve as floodgates will be erected at all entrances. Makes one rest easier about spending $50 million on the penthouse.
Christie Wright
500 West 21st Street

Architect: Kohn Pedersen Fox

Project: 32-unit condo building

Opening: 2015

A departure from the swooping, curved and jagged peaks of the IAC Building and the Vision Machine is KPF's new residential project. All strong lines and straight edges, with plant life around the balconies to soften things up, this one has casement windows and a limestone façade. The units range from 1,050 to 4,000 square feet. Prices range from $2.3 million to $10 million. Last we checked, only two were left.

(Photo courtesy of Kohn Pedersen Fox)
Christie Wright
505 West 19th Street

Architect: Thomas Juul-Hansen

Project: 35-unit pair of condo buildings 

Completion: 2015

Mr. Juul-Hansen is the Danish architect du jour, associated with a host of prestigious projects like One57. (He did the inside). This time he's doing interiors and exteriors for developer HFZ Capital, and his concept is the talk of the High Line, with a condo tower rising on either side of the park and an art gallery below park level. Apartments here run from 1,050 to 5,800 square feet and windows are designed to maximize light and privacy. A one-bedroom starts at $2.24 million. Modernists only.
Christie Wright
40-56 10th Avenue

Architect: Jeanne Gang

Project: 186,700 square feet of office over 10 floors

Completion: 2015

Studio Gang, the Chicago outfit known for gravity-defying designs, recently won approval for a faceted top-heavy tower designed not to block river views or High Line sunlight via a "solar carve" cutout on the bottom. It's the first New York outing for architect Jeanne Gang, a Rem Koolhass-level philosopher-architect who was recently profiled in The New Yorker. After several fits and starts over approval, construction is just beginning on one of the glassiest buildings currently rising along the High Line.
Christie Wright
837 Washington Street

Architect: Morris Adjmi

Project: 52,000 square feet of 
commercial space over six floors

Completion: 2014

It isn't a tower by anyone's definition, but one of the more muscular commercial spaces around is Mr. Adjmi's torqued-steel exoskeleton, which rises out of an existing warehouse that's very much of the Meatpacking District. Developed by Thor Equities and Taconic Investment Properties, the building seems ripe for a big-money tech company, especially one that doesn't want the inconvenience of interior columns (the steel girders hold the place up). There will be a big ground-floor retail presence and two outdoor decks on the warehouse roof—all the better for toasting deals while spying through the windows of the Standard Hotel across the street.
Christie Wright
Cary Tamarkin: 508 West 24th Street.
Christie Wright
Norman Foster: 551 West 21st Street.
Christie Wright
Thomas Juul-Hansen: 505 West 19th Street.
Christie Wright
Zaha Hadid: 520 West 28th Street
Zaha Hadid: 520 West 28th Street
Christie Wright
When the High Line first opened in 2009, many of West Chelsea's new buildings felt like glamorous interlopers on the neighborhood's still somewhat-gritty streets—sleek, incongruous showplaces whose sophistication often came across as borderline awkward. The neighborhood was gaining a reputation for high design, but its early exemplars still seemed ill at ease. Frank Gehry's IAC headquarters, whose eye-catching opaque glass panels rose up, lovely but alien, above the exhaust fumes and grime of the Westside Highway, for example, was a beacon of architectural brilliance in a stretch otherwise populated by self-storage facilities and warehouses. 
Five years later, it has become one of the world's most innovative architectural corridors—a playground where both starchitects and ambitious up-and-comers vie to display their most inventive designs. These days, drivers zipping by Gehry's IAC headquarters are as likely to exclaim over Jean Nouvel's Vision Machine, located directly across the street, or Annabelle Selldorf's 200 11th Avenue, a condo project whose decadent sky garages sadly overshadow its design merits (the virtues of which were not lost on Mayor Michael Bloomberg's decorator, who snapped up a two-bedroom there).
| | |
| --- | --- |
| With a remarkable concentration of clever, exciting designs clustered between the High Line and the Hudson, it is the most architecturally dynamic neighborhood in the city. | |
Dozens of projects have sprouted up in the vicinity of Manhattan's first elevated park these last few years, many of them ferociously impressive. The current crop boasts projects that include the Renzo Piano-designed Whitney Museum, Studio Gang's Solar Carve Tower on Tenth Avenue and the first New York City project by acclaimed architect Zaha Hadid, a condo of sinuous dark curves that she won the right to build by besting fellow Pritzker Prize winner Norman Foster in a design competition. (Fortunately, Sir Foster can take comfort in the under-construction condo he designed at 551 West 21st Street, which is, incidentally, just two blocks away from the Metal Shutter House, designed by this year's Pritzker winner Shigeru Ban.) 
"It was kind of one of those school projects: everyone wanted to occupy the High Line," Ms. Hadid gloated to New York magazine after winning the commission—itself a consolation for the bid she lost to Diller Scofidio + Renfro to design the elevated park.
"It's become a showcase for architecture," Mitchell Moss, professor of urban policy and planning at NYU, told the Observer. "The genius of the Bloomberg administration was that they were able to use the lure of the High Line to attract development, and the High Line in turn has created its own energy with a mix of designs, buildings and uses."
The district has helped to restore New York's promise as an architecturally daring city, a promise that has been dimmed over the past decade by too many boxy, Richard Meier me-toos, historical throwbacks and sky-kissing glass splinters whose only distinction is their height. It often seems that the greatest mandate when it comes to much new development in New York is that it not stand out in any way.
West Chelsea, on the other hand, has become a neighborhood of standouts. With a remarkable concentration of clever, exciting designs clustered between the High Line and the Hudson, it is the most architecturally dynamic neighborhood in the city—a creative flourishing fed by a trifecta of development boons: a 2005 rezoning, transferrable air rights created by the construction of the High Line and a seemingly endless supply of deep-pocketed denizens eager to live in the district. (In 2012, the district in which the park lies, Chelsea/Clinton, had the highest median monthly rent of all 59 community districts in the city, according to NYU's Furman Center.) At the same time, West Chelsea's architectural renaissance owes much to the not-insignificant restrictions and difficulties of building there, which have, paradoxically, helped to push development in more exciting, unusual directions.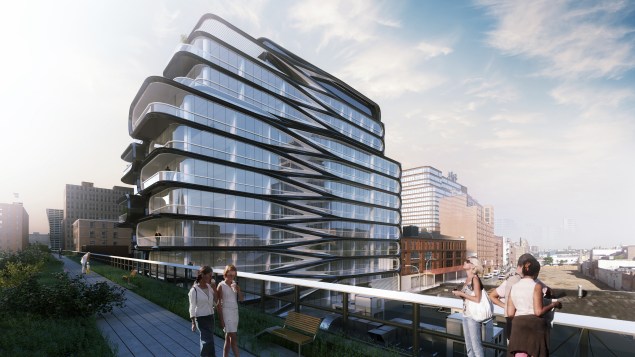 ***
When it was rezoned in 2005, West Chelsea already had all the hallmarks of the next It neighborhood: thriving art galleries, a large number of aesthetically pleasing industrial buildings, the recently opened Hudson River Park to the West and, to the South, the highly sought-after, largely landmarked streets of the West Village (where Richard Meier had just finished a trio of ultra-high-end glass-front condos). 
Google moved to Chelsea that year, followed in 2007 by an Apple store. Given the nexus of art, tech, money and design mania, it was no surprise that opening a formerly industrial area to residential development created the perfect storm, particularly as the nearby Meatpacking District gave the area a strong nightlife and retail component. At the same time, earlier starchitect projects like Gehry's IAC headquarters and Nouvel's Vision Machine had quickly demonstrated that both commercial and residential tenants would pay good money for great design.
Crucially, such projects proved that the neighborhood offered a vast amount of freedom for architects eager to leave their mark on Manhattan—a rare thing in a city where lots are narrow and development rights are maximized with brutal efficiency. 
"Every architect is trying to find a way to put his imprint on the building. But it's hard for an architect to be as creative in a built-up area like Soho or Noho, whereas the High Line is surrounded by old industrial property and there's a lot more freedom to do this," Professor Moss told the Observer. "Essentially, it's a newly created residential avenue, so architects can be kind of bold, and because you're building in an area that wasn't once residential, you have a lot of freedom. There are very few places where you can have that kind of visual impact." 
Of course, it is hard to overstate the appeal of the High Line itself, a park that was never intended to replicate the pastoral reverie of Central or Prospect Parks, where Frederick Law Olmsted selected trees that he believed would completely block out surrounding buildings. The High Line embraces rather than rejects the urban environment, drawing its design from the streets and buildings; it is a place as much about peekaboo views of the surrounding buildings as the Hudson River.
The High Line offers a "floating vantage point," as former City Planning Commissioner Amanda Burden once described the park's unique perspective, inviting people to gaze in and around buildings, to study their backsides and their corners.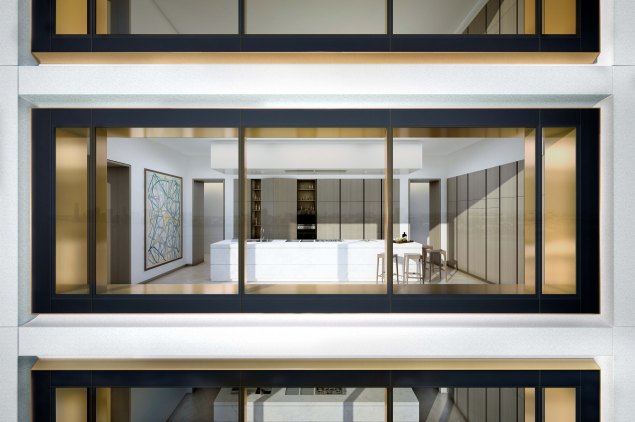 ***
For many architects, there is no greater obstacle to creativity than working in a landmark district, where one must contend with restrictive design limitations to win the approval of the Landmarks Preservation Commission. Many developers don't even bother hiring innovative architects for projects that will only nominally bear their exterior mark.
Another all-too-frequent consequence of preservation efforts is the prevalence of lackluster condo towers on the fringes of landmark districts, which allow developers to profit from the pent-up demand occasioned by cobblestoned streets and low-rise buildings without being hemmed in by any of their restrictions. (Consider the ticky-tacky hodgepodge that is Brooklyn's Fourth Avenue.) 
The High Line might also have suffered just such a fate, with a segment running through the "new" Meatpacking historic district, from its southern end to just above 14th Street.
| | |
| --- | --- |
| The district has helped to restore New York's promise as an architecturally daring city, a promise that has been dimmed over the past decade by too many boxy, Richard Meier me-toos, historical throwbacks and sky-kissing glass splinters. | |
But there the mix between old and new heightens rather than detracts from the aesthetic, as the tighter guidelines beget streamlined, historically inspired structures that rise alongside starchitect-styled wonders. 
To wit, 837 Washington Street, an office building designed by architect Morris Adjmi that recently opened after an arduous back and forth with Landmarks, resulting in the building being reduced from seven stories to five. Per Mr. Adjmi, Landmarks "loved the concept, but they felt it was too—they felt the scale was beyond what you typically saw in the Meatpacking." 
"Landmarks," Mr. Adjmi noted, "only looks at buildings specifically within the context of the designated historic district," which is why the decision to shorten the structure may appear bizarre. Directly across the street, the Standard Hotel stands 261 feet tall.
But vexing as such disparate rules may be to developers and architects, 837 Washington may well be a better building for the restrictions that were imposed on it. At least, Mr. Adjmi thinks so. The architect told the Observer that the takeaway from his experience was that "the Landmarks process helped the design." 
A gently twisting cube of glass, framed by a dramatic exoskeleton that rises from a 1930s brick warehouse, 837 Washington manages to be simultaneously hip, modern and an homage to the past. Perhaps most importantly, it serves as a complement to the Standard, rather than the dueling office tower that a developer might have ordered up had landmarking not been a concern. From the developer's perspective, of course, that might well be seen as a loss, but for the neighborhood and the park, it's a win.
Meanwhile, setback requirements for buildings that line the park have preserved the playful mix of heights that help lend the High Line its character and have prevented developers from eclipsing the valuable strip. 
Additionally, while the relatively low height limits might seem to discourage the efforts of top architects—or at least of the developers willing to pay them—starchitects seem, if anything, more excited to work on designs that are not variations on a spire. How else to explain the fact that someone like Ms. Hadid would actually compete to build an 11-story tower for Related while there are commissions going around like the one Christian de Portzamparc landed for the 90-story One57 (a design, we might add, that has been widely panned). 
Super-skinny, super-tall towers, it seems—especially those forced to maximize column-free floor space to squeeze in as many trophy condos as possible—may not lend themselves all that well to even the most talented architect's ministrations. Nor do they allow for fun, wit or a great deal of variety. 
That the High Line presents considerable design challenges is undeniable—Ms. Hadid's business partner told New York magazine that when they saw the zoning volume for the High Line site, they thought, Oh, my God, how are we going to do this? This is very, very constraining, but the idiosyncratic solutions are part of the buildings' and, by extension, the neighborhood's charm. 
For example, Neil Denari's HL23, situated on an undeniably awkward lot on Tenth Avenue and 23rd Street, addressed its stingy lot size by swelling as it rises, an "odd form" that earned accolades from The New York Times for creating "a wonderfully varied sequence of interior spaces." 
The eclecticism of the neighborhood and the blend of old and new development in West Chelsea also seem to have inspired a range of styles that complement an already lively streetscape. And the district's historical context serves as an inspiration rather than a thing to be eradicated or slavishly followed. 
In West Chelsea, the swooping curves of the IAC headquarters coexist with what might be referred to as the Neo-Bauhaus stylings of Cary Tamarkin's design for 508 West 24th Street and the classical tack taken for buildings like Thomas Juul Hansen's 505 West 19th Street, which boasts a gray limestone façade and custom-designed casement windows. (The Robert A.M. Stern-designed Abington House is another classic design.) And almost certainly, leather-daddy designer Peter Marino's condo collaboration with boom-era real-estate-broker-turned-developer Michael Shvo on Tenth Avenue will yield interesting results. 
"Creativity begets creativity—you have a little strip of real estate where interesting, cool things are happening and other designers want to join in," remarked Annik La Farge, a photographer, blogger and the author of On the High Line: Exploring America's Most Original Urban Park. "It's the same thing that happens in cities—young, interesting, creative people come to cities because they're enabled and they inspire each other and I think that's kind of what's happening along the High Line. We're seeing real innovation and creativity."
"Of course," noted Ms. La Farge, "there's also plenty of shit."
Rather than slackening, the High Line boom seems to be intensifying. In the years since it opened, Twitter has relocated its offices to the neighborhood and the new Whitney Museum building is nearing completion. Meanwhile, elite for-profit private school Avenues has opened in a building that shoulders up directly onto the High Line, cementing the neighborhood's status as not only a nexus of hip, but also a place where wealthy uptown families can relocate without worrying about ferrying their kids north to school every day.
And, of course, there is the next section of the High Line, which will run north, feeding into the mega development that is Hudson Yards. Its role will inevitably be different in a neighborhood that is essentially being constructed from scratch, but perhaps there, too, it might inspire current and future designers to embrace an element of surprise or whimsy.
For development along the High Line is, in myriad ways, a microcosm of what New York does best. It is a reminder that freedom often produces the most interesting results when it is paired with restraint, that great work inspires not only jealousy, but also creativity and a determination to do and be better, that the beauty of New York is the unpredictability of things.