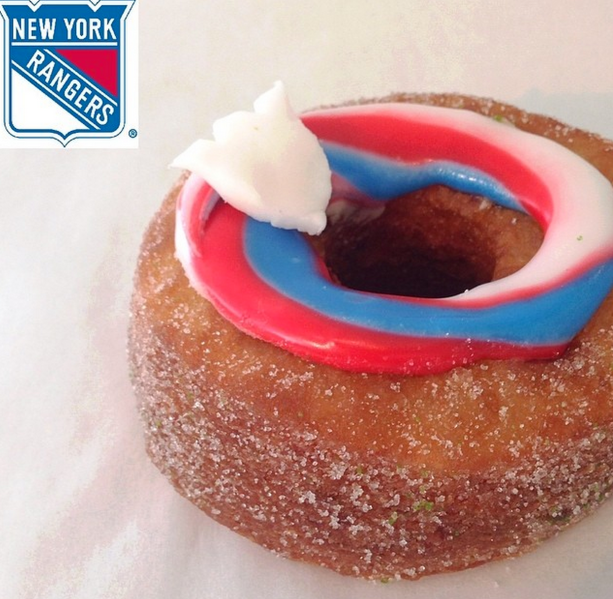 The fight for the Stanley Cup started Wednesday, pitting the New York Rangers against the Los Angeles Kings, and the match has inspired city pride and badgering on both coasts.
Even Governor Andrew Cuomo has gotten in on the action, wagering what may be the most uneven bet in the Empire State's history. If the Rangers lose, Mr. Cuomo will give California Governor Jerry Brown a "Taste of New York" basket, including cupcakes and sausages. If the Rangers win, Albany can only expect Mr. Brown's dry offer of lightly salted brown rice cakes and a copy "California, A History" by Kevin Star.
As if this bet weren't enough to solidify the New York food scene's dominance over the kale and chia seeds of the West Coast, many New York establishments, such as Dominique Ansel and Magnolia's, are churning out Blue Shirt specials for the fans.
Rangers Cronut: Dominique Ansel is known to shamelessly sign off on any attempt to stay current. So in the spirit of making the line outside his bakery even longer, he will offer a Rangers Cronut on Monday, topping his signature treat with strawberry-balsamic and mascarpone in the team's colors. Retired hockey giants Glenn Anderson, Adam Grave, and Ron Duguay will also be at the bakery to schmooze with fans, but we're more interested in the butter.
Blue Frrrozen Hot Chocolate: Serendipity 3 — that place you haven't ventured to since middle school or when your out-of-town cousins were visiting — shows off its own Ranger pride by turning its classic Frrrozen Hot Chocolate blue and finishing it off with blue and red sprinkles. Though a blue chocolate slushie may seem questionable at best, some of the best New York eats are.
Rangers Cupcakes: While some claim cupcakes are so 2012, Magnolia's is still sticking with what it does best. The bakery has fully decked out its time-honored chocolate and vanilla cupcakes in Rangers blue and red, leaving us with the nigh on impossible decision between banana pudding and hometown spirit.
Rangers Salty Pimp: And then there are our too-hip friends at the Big Gay Ice Cream Shop who never attended pep rallies and skipped out on senior prom. The Rangers twist on their delicious chocolate-dipped cone is, true to form, completely non-existent. But that's totally okay by us—when ice cream is in the balance, who really cares about sports?