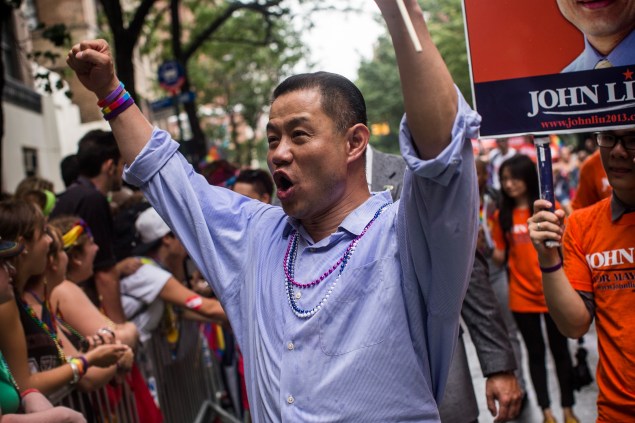 John Liu will not be hurting for cash in his bid to unseat State Senator Tony Avella.
Daily Kos, a liberal news blog that has helped fund-raise $30,000 for Oliver Koppell's race against State Senator Jeff Klein, is now wading into the battle for the eastern Queens district. The blog has pledged their support for Mr. Liu and will put their formidable fund-raising operation behind the former city comptroller and mayoral contender.
Sources say the blog could kick in as much as $50,000 to Mr. Liu's coffers.
"For too long, New York has struggled to enact meaningful progressive policies. The Republican-controlled Senate has consistently stood in the way of real reforms like a higher wage, the DREAM Act, the Women's Equality Agenda, and public financing for fair elections. These are the values that John Liu will champion in the Senate," said Daily Kos Political Director David Nir.
"Tony Avella had his chance to make a real difference in the Senate, and he failed when he allowed the Republicans to seize control of the government. It's time for a change," he added.
Mr. Avella became a target of Senate Democrats and liberals after he defected to the Independent Democratic Conference, a bloc of breakaway Democrats that govern the senate with the Republican Party. The Queens Democratic Party, an enemy of the IDC, aggressively courted Mr. Liu to run against Mr. Avella.
Fund-raising is not expected to be an issue for Mr. Liu, unlike Mr. Avella, who has less than $3,000 in his campaign account. Mr. Liu's mayoral campaign foundered after a fund-raising scandal but he is otherwise an aggressive fund-raiser with deep ties to Queens' affluent Asian-American community.
Mr. Avella, however, will be able to rely on Mr. Klein to help raise money for him. Mr. Klein, with a million dollar campaign war chest, is known as one of the more prolific fund-raisers in Albany.
Mr. Avella did not immediately return a request for comment.