"I'm a dairy guy," said Malcolm Stogo, known by those in the business as 'The Godfather of Ice Cream.' "When someone first asked me to make a dairy-free ice cream, I laughed in their face."
Then again, Mr. Stogo has always had a penchant for thinking outside the box. The 72 year-old is credited with inventing the Cookies 'n Cream flavor in his first shop in Philadelphia in 1977, and later went on to devise the chocolate-dipped waffle cone and found Ice Cream University, a New Jersey school for learning the art of ice cream making.
But the idea of ice cream without cream seemed, even for Mr. Stogo, a little far-fetched.
The challenge enticed him. "Food had become so much about quantity over quality," he recalls. "And I didn't like that. I knew there had to be a way to deliver high-quality foods for everyone. Everyone should get to love ice cream."
He set about finding a recipe that would be dairy-free, but have no icky aftertaste most associated with vegan-friendy foods.
After some years of trial and error, and support from FAL Foods, a worldwide food producer, Mr. Stogo introduced DF Mavens—a new line of dairy-free ice cream with 20 distinct flavors. Some are soy-based, some use coconut milk and others use almond milk base. All of them, the Observer can confirm after grueling rounds of taste tests, are delicious, and surprisingly creamy. (Our favorite? Key Lime Creme.)
"I've talked to vegans and they've told me it's hard to find food that tastes good," said Mr. Stogo on a recent visit to DF Mavens' brand new $3 million dollar factory in Astoria. "The key is just making it taste as normal as possible. That means no aftertaste."
The pints are now being sold in retailers across the tri-state area, including Whole Foods. Mr. Stogo also has his eye on expanding to the West Coast, where he thinks it will find a favorable climate among the long-established health food culture there. But first, he hopes to draw support from his hometown, planning to open the first DF Mavens ice cream shop in the East Village later this summer.
Mr. Stogo believes vegan-friendly, organic, soy free, and gluten free foods are more than a trend—they're representative of a larger health consciousness here to stay.
"There's been a big change in the last five, ten years," he said. "People are more conscious of what they're putting into their bodies now. They use to think lactose intolerance wasn't a real thing."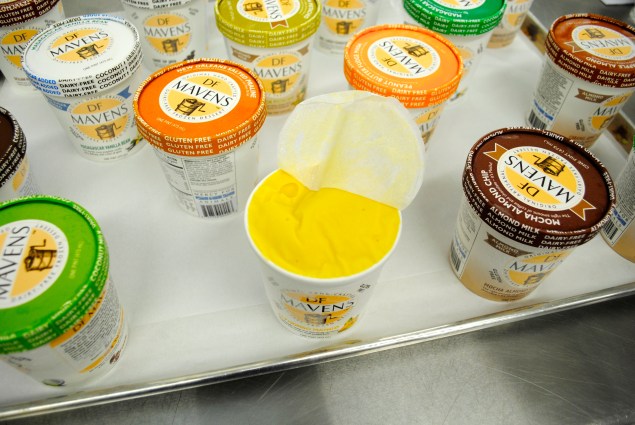 There is a unique utopian vibe to the DF Mavens ethos. In the gleaming factory, 30 employees make the frozen delicacy using small batch, artisanal procedures. Mr. Stogo said he believes in community involvement—when choosing a site for his factory he settled in New York City, even when other places would have been cheaper. (It's the only ice cream manufacturing plant in the city, and the first factory to open here in years.) Additionally, a portion of all profits go to Mercy for Animals, an animal rights non-profit.
For Mr. Stogo, this mindfulness is what turns a good company into a great one.
"We can't just be the same, or better. We have to be substantially better," he said.
DF Mavens has already found a following among the vegan and lactose-intolerant community. It sells tremendously well at its various retail outlets. Mr. Stogo said they've been especially embraced by New York's Asian population, where lactose intolerance is common.
Ever looking ahead, Mr. Stogo wants to take DF Mavens mainstream, where it can be enjoyed by people of all diets and lifestyles. His next goal is dairy-free baked goods.
"I'm 72 years old. At this point, my goal is helping people," he said. "I want to make their lives better."