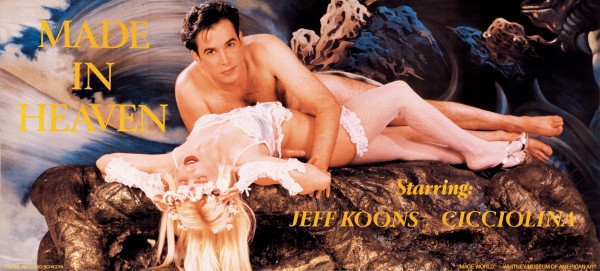 I don't know how to write about Jeff Koons. His retrospective at the Whitney, which lopes quickly around the whole of the soon-to-be-lamented Marcel Breuer building, begins with an acrylic, vinyl, and fluorescent lightbox sign titled The New, on which heavy black sans serif letters, set against a blood-red background and climbing jauntily uphill, spell out "THE NEW."This was also the title of Mr. Koons's first major appearance, a show at the New Museum in 1980 that included readymade vacuum cleaners in vitrines, smaller appliances set against white fluorescent tubes, and inflatable toys posed on or against mirrors. There's an interesting paradox at the heart of novelty: The less purchase a piece takes on what came before it, the more distinctly it carries an aftertaste of having been seen before.
A carefully enough pitched, narrowly enough placed gesture, in other words, can forestall growth and change and make itself into a powerfully appealing and absolutely unfailing cornucopia of its own thin titillation. But shutting out growth and change also means shutting out the viewer's own internal experience, and with it any possibility of reciprocity, interaction, memory, or critique.
The appropriations of Nike posters from "Equilibrium,"Mr. Koons's first solo show in 1985, now look more like an audacious redoubling of corporate exploitation of black culture and youthful enthusiasm than they do like an exposé, critique, or even addition. His mysteriously floating fish tank basketballs—achieved by filling the balls with distilled water and depositing them in salt water—raise the theme that, for me, makes Mr. Koons's sculpture most uncomfortable: the valorization of an engineering feat, purely for its own sake, in what would otherwise be a humane context. It's easy enough to admire a yellow Lamborghini zipping past on the street while still entertaining doubts about the person who actually shelled out the money to buy it, but when the car drives into a museum, I no longer know how to feel.
Stainless steel doppelgangers of academic statuary and plastic toys—the "Statuary"series—are as sensually fascinating a literalization of symbols as the Monopoly pieces they resemble. And "Banality,"a series of large-scale ceramic figures based on collectible figurines and found imagery and produced on commission by German and Italian decorative artists, similarly offers the pleasures of novelty without any great risk of learning by presenting unsurprising objects in mildly unexpected ways. To note that one or two of them, like Bear and Policeman, in which a cute, anthropomorphic bear gets chummy with an English bobby, Buster Keaton, in which the brilliant vaudevillian sadly rides a tiny horse, or Ushering in Banality, in which two Hallmark cherubs and a little boy try to move a pink pig with a green bow around its neck, even achieve material aesthetic interest in themselves would seem beside the point if it didn't already seem beside the point to be talking about points at all.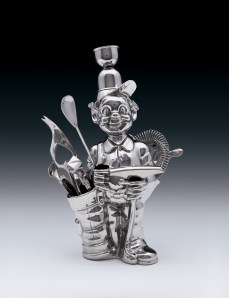 In the "Made in Heaven"series, Mr. Koons dissolved the line between art and life, public and private, self and performance, or unbounded libidinous fantasy and ordinary reality by making pornographically explicit art of his relationship with parliamentarian and porn star Ilona Staller, aka La Cicciolina, now his ex-wife—the relationship having begun, of course, when he hired her to pose in the first place.
The spiral winds tighter and tighter through the nineties and aughts, with a man-sized, solid granite black gorilla, replicating a molded wax toy down to its seam and, thanks to an obscene expenditure of human labor, its matte-yet-shiny surface; stainless steel replicas of Hulk and Popeye toys; a gigantic pile of "Play-Doh"that actually captures its grainy, ice-cream-like texture; two genuinely beautiful tinted steel replicas of classical sculptures, the blue Metallic Venus and the yellow Pluto and Proserpina, both decorated with live flowers; and finally those high-water marks of information-age capitalist alienation, in which even texture, color, and form are sliced apart before being recombined into a singular command of skill, labor, commodities, power, technology, sensual pleasure, interpersonal coercion, and primate boasting, the famous, delightful, and technically extraordinary stainless steel balloon animals.
You don't often encounter a brightly colored mirror, let alone a curved one, and looking into an expansive fisheye distortion of the very room you're standing in is immediately engaging. But there's nowhere to stand relative to one of these things that doesn't put a diminished and discolored version of yourself right there in front of you. I, for one, don't want to stand and look at myself like that for very long.